Bush, Obama Ethics Chiefs Call Out Kellyanne Conway for Violating Hatch Act: 'That is a Firing Offense'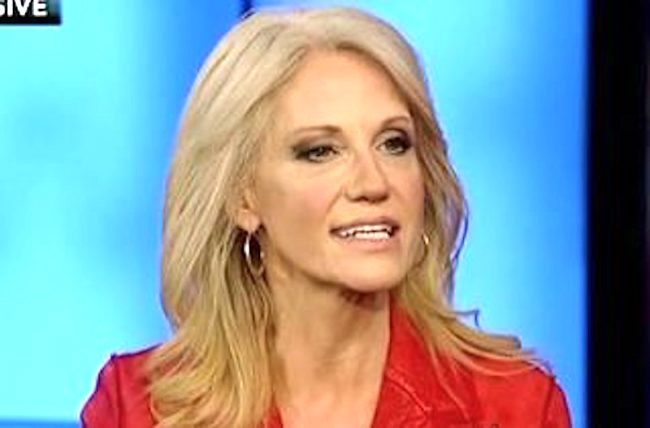 Two high-ranking ethics attorneys for the Trump Administration's predecessors are condemning Kellyanne Conway and accusing her of repeatedly flaunting the Hatch Act.
Walter Shaub, the former director of the Office of Government Ethics under Obama, tweeted earlier today that he has filed a government complaint against the White House special counselor. Shaun's grievance is that Conway violated the Hatch Act, which states that executive branch employees are forbidden from engaging in political activity in their official capacity.
I have filed a complaint with the U.S. Office of Special Counsel, which investigates Hatch Act violations. https://t.co/Mrm8al9nZz

— Walter Shaub (@waltshaub) November 22, 2017
Shaub seems to be taking issue with Conway's recent appearance on Fox & Friends, where she slammed Doug Jones and implicitly endorsed Roy Moore by talking about how he'll advance the GOP's agenda in the Senate. Conway previously said that "no Senate seat is worth more than a child," though she repeatedly dodged when asked if she was saying to support Moore despite the underage sexual abuse allegations against him.
President Trump virtually endorsed Moore yesterday when he brushed off the allegations against the embattled candidate and said "we don't need a liberal Democrat in that seat." A new report also says Trump personally granted Conway permission to attack Jones during her TV spot.
Shortly after Shaub announced his complaint, Bush-era chief White House ethics lawyer Richard Painter slammed Conway for using her White House platform to get involved with Alabama's senate election.
This is an official interview. She has violated the Hatch Act by using her position to take sides in a partisan election. That is a firing offense. And for her this is strike two. https://t.co/U4kjbLu4NT

— Richard W. Painter (@RWPUSA) November 22, 2017
Painter noted that this wasn't the first time Conway was accused of violating the Hatch Act. Months ago, Conway faced a disciplinary review after she used a TV appearance to advertise Ivanka Trump's products.
UPDATE – 6:15 p.m. EST: The White House offered a statement in response to Shaub and Painter.
"Ms. Conway did not advocate for or against the election of a candidate, and specifically declined to encourage Alabamans to vote a certain way. She was speaking about issues and her support for the President's agenda. This election is for the people of Alabama to decide."
[Image via screengrab]
— —
>> Follow Ken Meyer (@KenMeyer91) on Twitter
Have a tip we should know? tips@mediaite.com