C-SPAN Transcript Causes Gingrich to Slam Obama for Something He Didn't Even Say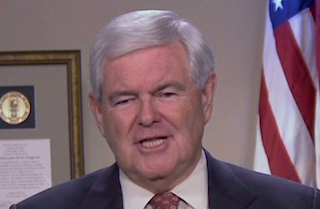 On Tuesday, Newt Gingrich proved why you should always watch someone make a speech before criticizing what they said in that speech. Shortly after President Barack Obama delivered his remarks about the first U.S. airstrikes in Syria, Gingrich went on Twitter to express his outrage over something he had ostensibly heard the president say.
Gingrich tweeted:
How do you fly a combat mission with courtesy? President Obama's use of that term this morning is just weird. We are dropping bombs.

— Newt Gingrich (@newtgingrich) September 23, 2014
Dropping bombs is not courteous it is combat. Someone should ask the white house what President meant using the word courtesy this morning

— Newt Gingrich (@newtgingrich) September 23, 2014
Yes, somebody should have asked the president what he meant, if he had actually said that. What Obama did say was this (emphasis added): "Today, the American people give thanks for the extraordinary service of our men and women in uniform, including the pilots, who flew this mission with the courage and professionalism that we have come to expect from the finest military that the world's ever known."
Gingrich later realized his mistake, tweeting this correction:
Correction, cspan transcribed President inaccurately and i used their version. He said our pilots had courage not courtesy and that is true

— Newt Gingrich (@newtgingrich) September 23, 2014
It was one thing when conservatives were criticizing President Obama for things he did say, but now apparently they are also going after him for things he didn't.
Watch video of Obama's remarks below, via Fox News:
[h/t TPM]
[Photo via screengrab]
— —
>> Follow Matt Wilstein (@TheMattWilstein) on Twitter
Have a tip we should know? tips@mediaite.com