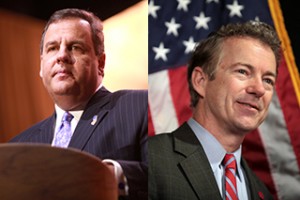 Petty? Maybe. But aides to lower-polling Republican presidential hopefuls lashed out Tuesday after the Republican National Committee doled out greenrooms to candidates, suggesting that the RNC was playing favorites by providing unequal amenities to top candidates.
Sources who accompanied RNC officials on a walk-through of the Coors Event Center ahead of Wednesday's CNBC debate reported that aides to Chris Christie and Rand Paul complained of unfair treatment by the committee.
Christie's campaign manager, Ken McKay, was the first to speak up. "This is ridiculous — we're in a restroom," McKay said.
Chris LaCivita, a consultant to Paul's campaign, also demanded better greenroom conditions for his candidate. "Was there any advance done on the campaign work spaces? Because it sure as hell doesn't seem like it," he said.
Indeed, social media posts by LaCivita suggest that some campaigns were pampered with lavish upgrades, while others are not so lucky.
#CNBCDebate walkthru: guess which green room belongs to @realDonaldTrump and which belongs to @RandPaul #thanksRNC pic.twitter.com/kXAgQ9DHEZ

— Chris LaCivita (@LaCivitaC) October 27, 2015
Round 2: guess who is @CarlyFiorina and @RandPaul … Hint: someone has a jacuzzi #thanksRNC pic.twitter.com/WB8ZOEXiG6

— Chris LaCivita (@LaCivitaC) October 27, 2015
Check out Marcos theater !!!! pic.twitter.com/l2jMfnlwgh — Chris LaCivita (@LaCivitaC) October 27, 2015
RNC officials told the campaign aides they would remedy the situation. Several hours later, LaCivita posted a picture of the Paul campaign's upgraded facility.
Thanks to everyone at @GOP for bending over backwards to acquire great working conditions for team Paul. pic.twitter.com/bISE6WVerk

— Chris LaCivita (@LaCivitaC) October 28, 2015
[Images via Wikimedia commons]
—
>> Follow Elizabeth Preza on Twitter (@lizacisms)
Have a tip we should know? tips@mediaite.com