#CancelNancyGrace: Wrestling Fans Blast Nancy Grace for Coverage of Ultimate Warrior's Death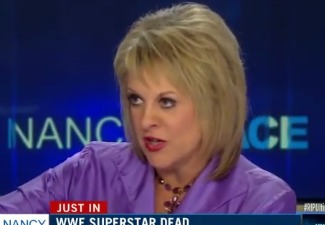 Mere weeks after #CancelColbert (how did that turn out, by the way?), wrestling fans have taken to Twitter to body-slam Nancy Grace for making her coverage of Ultimate Warrior's death all about steroid use and their potential role in the deaths of professional wrestlers, leading to the Twitter trend #CancelNancyGrace.
James Brian Hellwig, a.k.a. the Ultimate Warrior, was a big wrestling star who passed away this week at the age of 54, and Grace brought on Diamond Dallas Page Wednesday night to discuss Hellwig's tragic passing, but she ended up going on a tangent about steroids being a problem in the wrestling community and suggesting steroids may have been a factor in Hellwig's death.
As Grace talked about steroids, she brought up a list of wrestlers who died young. Two names on the list were Owen Hart and Mark Curtis (the name that Brian Hildebrand went by). There's just one problem: neither man's death had to do with steroid use. Hart fell to his death in 1999, and Curtis passed away two years after being diagnosed with stomach and bowel cancer.
RELATED: Disagree with Nancy Grace's Anti-Pot Crusade? Well, You're Just 'Fat and Lazy' Stoners
Page took to Twitter to cry foul, saying he did not know ahead of time about Grace's focus on steroids and demanded an apology for implying that every name on the list died from steroid use. And thus, #CancelNancyGrace was born.
#CancelNancyGrace because she probably thinks Abraham Lincoln died of steroid abuse.

— David Wilcox (@drwilcox) April 10, 2014
People can be so heartless sometimes. How about you show some respect while a family mourns their loss. #CancelNancyGrace

— Los (@canoc1) April 10, 2014
I was wondering what inspired the #CancelNancyGrace tag, then I realized it was probably just Nancy Grace and not a specific event.

— Jenny Trout (@Jenny_Trout) April 10, 2014
Absolute horrendous job by @NancyGraceHLN , please know the facts before you speak on subjects you don't understand #CancelNancyGrace

— SXM Busted Open (@BustedOpenRadio) April 10, 2014
Anything that dies was because of steroids and drugs according to Nancy grace #CancelNancyGrace pic.twitter.com/KB1kNa5sWO

— Prof. Julio (@julioclip) April 11, 2014
#CancelNancyGrace #WWE @49erFanNYC pic.twitter.com/C7kKFUj9pK

— Scott M. Fishman (@smFISHMAN) April 11, 2014
Watch the video below, via HLN:
[h/t Twitchy]
[photo via screengrab]
— —
Follow Josh Feldman on Twitter: @feldmaniac
Have a tip we should know? tips@mediaite.com
Josh Feldman - Senior Editor