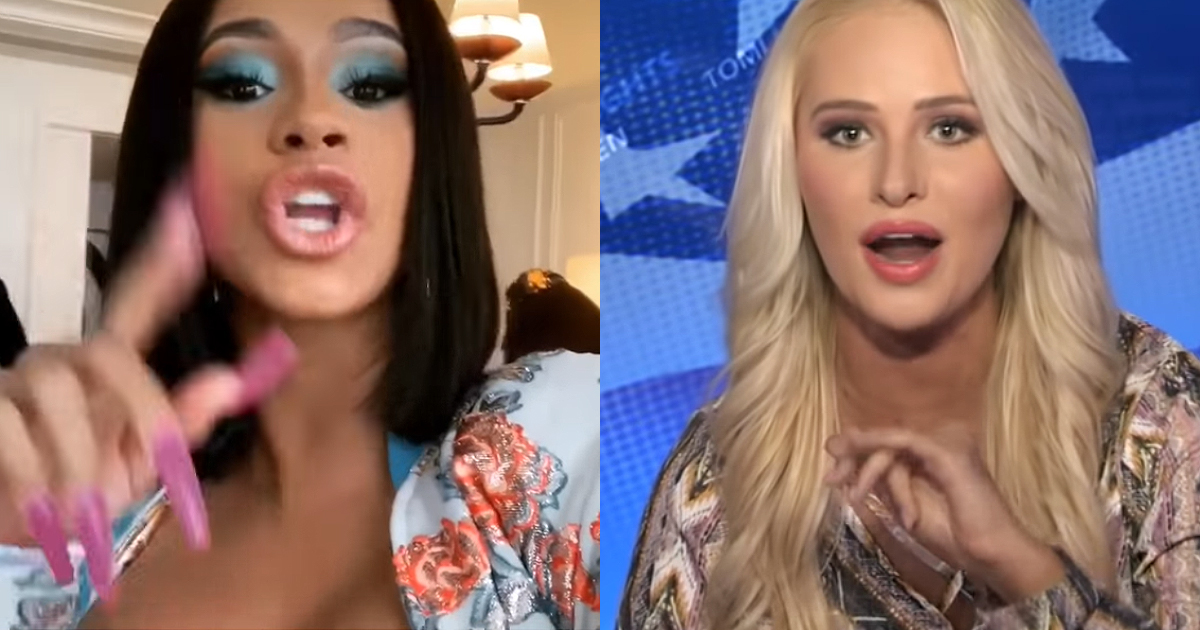 Rap superstar Cardi B spent part of her Sunday going oops upside Fox Nation host Tomi Lahren's head when Lahren tried to insult Cardi over her blistering criticism of Donald Trump and his shutdown.
The performer released a scorching Instagram video on Wednesday that torched Trump and his "fucking racist redneck" supporters over the Trump shutdown. Lahren decided to respond by sarcastically calling Cardi a "genius":
Looks like @iamcardib is the latest genius political mind to endorse the Democrats. HA! Keep it up, guys! #MAGA2020

— Tomi Lahren (@TomiLahren) January 17, 2019
In the ensuing several days, Ms. B apparently became aware of Lahren's insult and, early Sunday morning, dismissed Lahren by promising "I will dog walk you":
Leave me alone I will dog walk you . https://t.co/FjqIzpUbvp

— iamcardib (@iamcardib) January 20, 2019
To "dog walk" someone is to demonstrate dominance, as all young people know without looking it up on Urban Dictionary.
Lahren oddly conceded the point, yet continued to insult Cardi as "moronic":
I'm sure you would. Still doesn't make your political rambling any less moronic. #BuildthatWall https://t.co/pcFJ6jrgqv

— Tomi Lahren (@TomiLahren) January 20, 2019
Cardi then made good on her promise, calling Lahren out for being "blinded with racism":
You're so blinded with racism that you don't even realize the decisions the president you root for is destroying the country you claim to love so much .You are a perfect example on no matter how educated or smart you think you are you still a SHEEP! https://t.co/khRpoOt16B

— iamcardib (@iamcardib) January 20, 2019
But Lahren was not finished yet. When Cardi responded to another Twitter user by noting how much money she contributes in taxes, Lahren tried to inject herself again:
Im paying about 4 million in taxes this year so most likely I am Paying for your insurance ….That's if your favorite president don't take my tax money for his wall Mr white bread . https://t.co/nm5l4lVhrp

— iamcardib (@iamcardib) January 20, 2019
You do realize these high taxes you complain about are the bedrock of the Democratic Party, right? If you want lower taxes and more economic freedom, beware of the party you are rooting for. https://t.co/cCG5wYsElc

— Tomi Lahren (@TomiLahren) January 20, 2019
Lahren herself is an admitted beneficiary of Obamacare, a system which Cardi B appears to prefer supporting over funding for a border wall. Cardi B has been an outspoken critic of Trump in the past, and likely will continue to dog-walk any of his supporters who troll her.
Have a tip we should know? tips@mediaite.com