Carl Bernstein to Join CNN's New 'Cross-Platform' Investigative Reporting Team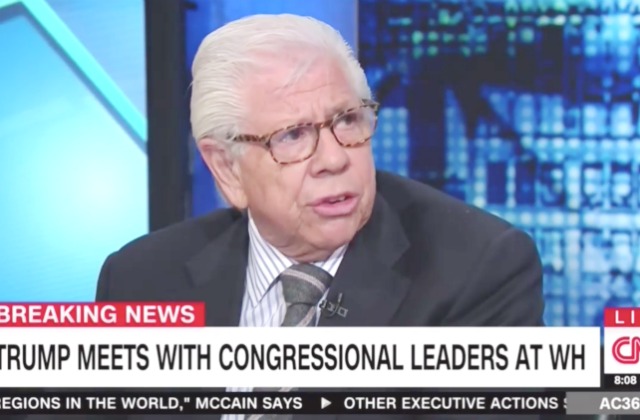 It would appear as if one of the reporters behind the legendary Washington Post's uncovering of Watergate is set to take on a more robust role with CNN, the cable net where he has been serving as an occasional contributor.
CNN's Senior Reporter for Media & Politics Dylan Byers Tweeted shortly ago that Carl Bernstein, as well as Andrew Kaczynski, Scott Glover, and Drew Griffin, would be joining the expanded investigative effort under Lex Harris, CNN Money's executive editor.
Byers emails:
"We are also pleased to announce the addition of two contributing editors: Pulitzer Prize winner Carl Bernstein, who has played an important role in CNN's most recent coverage of Trump and Russia, and James B. Steele, the winner of two Pulitzer Prizes for investigative reporting with Donald L. Barlett."
Bernstein recently co-bylined CNN's reporting that high level intelligence officials brief both Presidents Barack Obama and Donald Trump on the contents of "compromising personal and financial information about Mr. Trump" in Kremlin possession (Buzzfeed later let the full cat out of the bag, of course).
Bernstein has been particularly vociferous as of late during his CNN appearances to call out Fox News directly for their handling of Trump; he said recently that Trump's "unhinged" paranoia is worse than that of President Richard Nixon. Of course, it was Nixon who bore the brunt of Bernstein's extraordinary journalism along with Bob Woodward at The Washington Post, linking a break in at the Democratic National Committee's headquarters at the Watergate Apartments with the Committee to Reelect President Nixon in 1972. James Steele is an investigative journalist and author who serves as a contributing editor to Vanity Fair.
Have a tip we should know? tips@mediaite.com