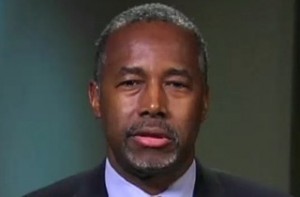 Ben Carson backtracked Monday on claims his foreign policy "sources are better" than President Barack Obama's, telling reporters, "that was tongue in cheek."
Carson said the suggestion that he has better sources than the president was intended as a joke, adding it "would be very alarming" if his campaign had access to superior foreign policy advisors.
At the last Republican presidential debate, Carson told the audience "the Chinese" are operating in Syria, a declaration met with criticism by some foreign policy experts. National Security Advisor Susan Rice rebutted Carson's claim, telling reporters the U.S. has no evidence of Chinese involvement in Syria.
In an effort to back up his statement, Carson said China supplies "a lot of military equipment, and they supply radar equipment and sophisticated monitoring systems" to Syria.
In a separate interview, Carson told reporters his campaign would release "some material on" China's operations in Syria. "I have several sources that I've gotten material from. I'm surprised my sources are better than [the Obama administration's]," Carson said.
White House Press Secretary Josh Earnest told reporters that hearing the Republican presidential candidate say he has better sources than Obama left him "speechless." The president also rejected the candidate's foreign policy claim, telling ABC News that Carson is ill-informed. "He doesn't know much about it," Obama said.
Though Carson clarified his comments were meant as a joke, the candidate took the opportunity to criticize the Obama administration's Syrian refugee policy. Jabbing at Obama's poorly-timed assertion that ISIS forces are "contained," Carson said Monday, "The only thing that seems to be contained is this foolish policy inside our government."
[Image via screengrab]
—
>> Follow Elizabeth Preza on Twitter (@lizacisms)
Have a tip we should know? [email protected]