Carson on Supporting Trump: I'm Reassured He Doesn't Believe 'Outlandish' Things He Says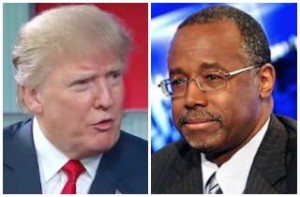 In explaining his decision to support Donald Trump for the presidency, Ben Carson revealed yesterday that Trump has privately told him that he doesn't really believe some of the nonsense he spews.
Carson told The Hill, "I needed to know that he could listen to other people, that he could change his opinions, and that some of the more outlandish things that he's said, that he didn't really believe those things."
And he seems to have been reassured on that, though he refused to say what particular issues or statements Trump indicated softening on.
Carson said he has a pretty good relationship with Trump and just doesn't like the others. Ted Cruz, Carson's second choice, is a "polarizing figure" who wouldn't be able to win over independents and Democrats.
He doesn't see a pathway for Marco Rubio or John Kasich, and Carson's warning about possible revolt at the convention:
"That's the reason I came out this week, because if there's any way to preclude that from happening it will be good for us. If we go to a contested convention, regardless of the outcome of it, it's going to fracture the party in an irreparable manner."

Carson predicted that if Trump shows up with a plurality of delegates at the convention, but the nomination goes to someone else, the despair felt by grassroots conservatives would keep them home on Election Day and "hand over not only the presidency, but perhaps the Senate and the House to the Democrats."
[image via screengrab]
— —
Follow Josh Feldman on Twitter: @feldmaniac
Have a tip we should know? tips@mediaite.com
Josh Feldman - Senior Editor