Cartoon Wars: Family Guy Creator Seth MacFarlane Laments South Park Creators' Personal Hatred For Him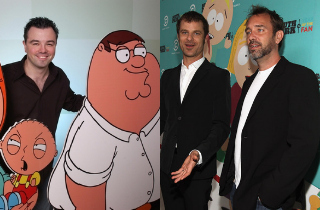 Seth MacFarlane just doesn't understand why the South Park guys hate him so damn much.
In a recent Rolling Stone interview, the Family Guy creator and voice actor was asked for his feelings on how the people behind animated shows like The Simpsons and South Park relentless mock his show. The interview asked whether MacFarlane's show is "on the outside of some comedy in-crowd."
"At one point, that was the case," he responded. "But the Family Guy crowd and the Simpsons crowd have become friendly over time."
However, he said, the South Park creators Trey Parker and Matt Stone have yet to offer an olive branch.
"I thought the South Park episode making fun of us was funny and accurate," MacFarlane conceded. "But what I don't understand is the personal venom that they spew in the press about the show and about me, where it's not in the context of a joke. That's a little baffling."
In several interviews, Parker and Stone have expressed a strong distaste for the popular Fox animated series, saying "it hurts so fucking bad" to ever have their South Park compared with the likes of Family Guy.
"They let loose with this vitriol in every interview I read with them," MacFarlane lamented to Rolling Stone. "It'd be interesting to know where it comes from, because I don't know them."
Read the full MacFarlane interview here.
[Pic: Getty]
— —
>> Follow Andrew Kirell (@AndrewKirell) on Twitter
Have a tip we should know? tips@mediaite.com