Casey Anthony, Inside The Courtroom: Top TV Reporters Share Notes With Mediaite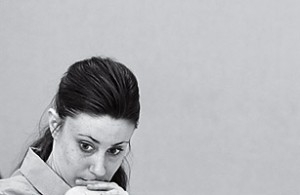 As the Casey Anthony trial continues to unfold, the spotlight has tended to shift away from what's going on within the courtroom to those covering the case itself. Here at Mediaite especially, we've been keeping an eye on the different reactions to the story by reporters and pundits across various networks. In that spirit, we reached out to a few of the hard-working reporters covering the trial to give us some insight into what the experience has been like for them. Their observations and anecdotes helped us chisel out a clearer image of what it's like to cover a big, sensational, heart-wrenching, frustrating, perplexing story while the rest of the world looks on and weighs in.
NBC's Kerry Sanders has been covering this strange, mesmerizing case since 2008, so he knows, better than most, of the odd turns it has taken and the sometimes perplexing hold the case has had on its, well, "fans." In fact, Sanders recently wrote an article on a unique phenomenon surrounding the trial: The rise of nicknames and memes blossoming as the trial continues to enthrall viewers.
His post got us wondering…
Are people viewing this trial as something like a reality TV show?

I think an interview I did with one of the court watchers in line for tickets explained it best by the words she chose. She told me, "I tape it every day, and I have not missed an episode."

EPISODE? I was flabbergasted. I even told her "this is real you know? A court room? Not a TV show." She said, "Yeah yeah yeah," and then sort of laughed. I met a woman here from Savannah, GA who dropped her children off at Disney and instead chose to go to court for the day. It was her vacation, she said.

I've been covering this story since the day Caylee was reported missing back in July 2008. That's a lot of flights to Orlando. My senior producer Noah Kotch at The Today Show had us chronicle every development because he sensed early this was a story people would latch onto and could relate to. I would say the clear draw is the question: Could a mother have killed her daughter so she could live the carefree life of a party girl, as prosecutors allege?

In the Facebook, Twitter, "me me me" world we live in, that still seems impossible to believe. In the courtroom, a little "community" has developed and that's spilled into the real world via Twitter.

As you can see in my story, there's "the Velvet Hammer" (Judge Perry) NikkiFingers (the stenographer) LawyerGaga (a defense attorney sometimes in the camera shot.)

The nicknames reveal that between the high points — reporters, producers and others are filling the time with cute, snarky and sometimes laugh-out-loud observations. Of course you can't laugh as that would get you kicked out of the courtroom. It's all online because if anyone even whispers a peep, the bailiffs will kick you out. (By the way, I've yet to see a member of the media kicked out–so we're holding our own.)
As Sanders notes, Twitter has been playing an important in aiding reporters throughout the trial. ABC's Ashleigh Banfield has proven particularly adept at keeping her viewers and followers up-to-date on all things Casey Anthony both online and on television:
You've been using Twitter as a fast, instant way of reporting the trial to your followers. What do you think about Twitter as a reporting tool? Are there special hurdles you've found in using Twitter to report on the case?

While Twitter, without question, offers value added to reporting efforts, it's a relief to write lengthier pieces for GMA and Nightline at days end. There's only so much I can say – in fits and starts. That said, I've now sent out more than 15 hundred "fits and starts" since this trial began.
But what toil does covering a trial as gruesome and, well, as soul crushing as Anthony's take on reporters? We reached out to HLN's Jane Velez-Mitchell for some insight:
The trial has experienced quite a few ups and downs, twists and turns as it has continued to unfold and, judging from your in-depth Twitter reporting, you seem genuinely excited and concerned, right along with your viewers. Not only that, you're still able to fit in some more personal, light-hearted Tweets. It got me wondering: Is there anything you as a reporter do to prepare yourself, mentally and emotionally, for such potentially gruesome, taxing stories? Is it possible – or even necessary – to compartmentalize your work and your personal life when reporting on a story like this?

I prepare myself by taking a private moment every morning to contemplate how my reporting on this tragic case (and others) might help somebody else. Perhaps there's someone who relates to the situation and who can learn something that informs their decisions so they can avoid similar tragedies. A caller told us she sought and obtained custody of her granddaughter after her daughter began acting like Casey, lying and stealing! Hopefully this will serve as a cautionary tale for young women about the perils of getting pregnant very young when they don't have the financial ability or the maturity to properly care for the child.

At massive trials like this it's also impossible not to be struck by the absurdity of life, people cheerfully lining up to witness a tragedy unfold. There is always joviality in the midst of tragic trials like this: the prosecutor showing off his visiting sons and his new tie, as Jeff Ashton did in the elevator today; stifled guffaws in the gallery when a witness says something that's not believable. It's life. There's tragedy everywhere and humor is the antidote that allows us to keep going and not crumble under the weight of a world that seems so needlessly cruel to so many innocents.
Have a tip we should know? [email protected]