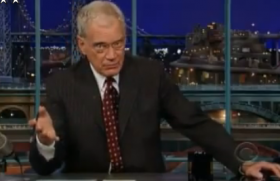 Is CBS kidding? Brian Stelter at the NYT reports that they've spent the weekend having "unauthorized copies" removed from YouTube. First of all, let's get one thing straight: Videos of Letterman's mea culpa don't need to be authorized. They're news. Check your Fair Use rules: it uses only the newsworthy portion of the show, it's definitely being commented on (!), and it won't affect the market for the original work (don't blame the messenger!). Despite its length (approx 10 mins) it's been pretty well-established as blaring-headlines-on-the-front-of-the-New-York-Post news. So let's just make that clear.
But otherwise, I mean, really: Does CBS think this toothpaste is going back in the tube? Obviously not, and Letterman production company Worldwide Pants, which made the request, should know that too. They should also know that (a) using "The Late Show" as the millions-of-viewers platform for getting this story out was sorta public and (b) the coverup is worse than the crime — or, at least, the Internet hates when you remove things. So I fail to see what removing these videos now accomplishes.
In any case, they're not even "removed" per se — this being YouTube, there are a fair number of specimens available if you look (and you don't have to look hard). I've got a couple of clips below, including the full 10-minute version. For now. In addition, Sean McCarthy at The Comic's Comic actually has an official CBS clip from the segment embeded and still working away on his site. For what it's worth, there are two clips of experts commenting on the matter at CBSNews.com, where a search for "Letterman" yielded mostly print news stories, but at least those two clips. Which is good, because CBS News is, you know, a news division. And as mentioned above, this is news.
News you can still watch on YouTube! For now. See below.
Have a tip we should know? tips@mediaite.com