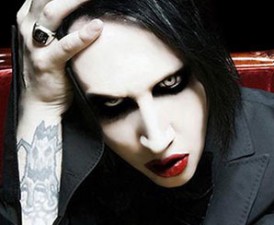 This morning, CNN chief medical correspondent (and onetime candidate for Surgeon General) Dr. Sanjay Gupta revealed that he had H1N1, better known as swine flu. The high-profile doctor joins a star-studded flu victims list, including MSNBC host Rachel Maddow, Rupert Grint, who plays Ron Weasley in the Harry Potter films, and most recently, goth rocker Marilyn Manson, who shared his diagnosis Monday through a MySpace blog post.
So celebrities get sick — where's the news? As you well know if you consume any media whatsoever, the ominous illness sent the news world into a tizzy earlier this year, only to return with a vengeance just in time for the first day of school. And as it turns out, swine flu is not far from your average influenza and one in ten New Yorkers have caught the virus so far in 2009. That makes the fact that we're tracking the health of some minor celebrities (they're just like us!) a bit odd, once you put things into perspective.
In a blog post on CNN.com, entitled "I went to Afghanistan and all I got was H1N1," Dr. Gupta writes about his laundry list of symptoms, including a cough with a "stinging pain," a higher fever, "lack of appetite, terrible sinus congestion, body aches" and more, but admits, "It was a lot like… the flu – with a different name." And his treatment regiment? Just "some Tylenol and a sinus decongestant." In sharing his news, Manson — loath the break character — quipped, "Unfortunately, I am going to survive."
So why do celebs feel the need to announce such routine health updates? Well, we know the media loves a good epidemic and for the stars, the publicity never hurts: Gupta's blog post is everywhere today, while Maddow dished about her illness during a visit to Late Night with Jimmy Fallon, when guests are expected to share amusing stories. Meanwhile, Grint's diagnosis came in the heat of this summer's Potter-mania, and as for Manson, when was the last time you heard his name? Exactly — let's just say the headlines never hurt. Get well soon, guys!
Have a tip we should know? tips@mediaite.com