French satirical magazine Charlie Hebdo has again stirred up controversy in Europe, this time for mocking the widely-shared image of young Syrian refugee dead on the beach.
The image of three-year-old Alan Kurdi drowned in the Mediterranean Sea helped spark a wider conversation across the world about the Syrian refugee crisis. "What would little Aylan [sic] have grown up to be?" the magazine irreverently asked, before answering: "Ass groper in Germany."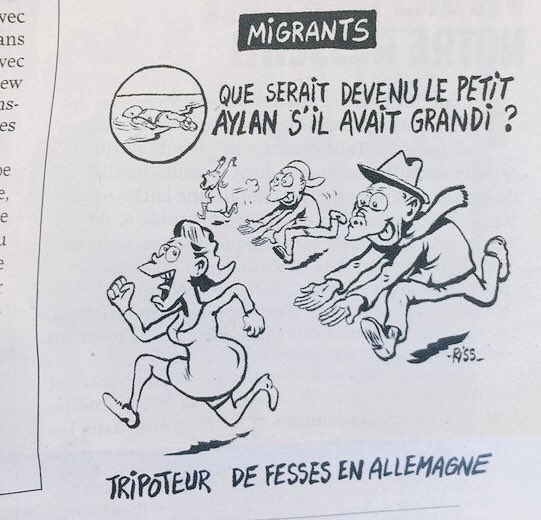 The caption is of course a reference to the mass sexual assault carried out by hundreds of men of Arab and North African ancestry in Cologne, Germany. Critics of the cartoon quickly took to social media and elsewhere to condemn Charlie Hebdo.
Charlie Hebdo says this drowned baby Syrian refugee would have grown up to sexually harass German women. pic.twitter.com/Atprm0LffW

— Hend Amry (@LibyaLiberty) January 13, 2016
Disgusting cartoon in Charlie Hebdo ("what would've become of Aylan had he grown up? A groper") via @faizaz pic.twitter.com/iB4myFb1ke

— Sunny Hundal (@sunny_hundal) January 13, 2016
Charlie Hebdo depicts Arab migrants as beast-like creatures that are out of control. This is racist. Plain & simple. pic.twitter.com/5y2l6yuoBP

— Dr. Craig Considine (@CraigCons) January 14, 2016
Callous & racist by #CharlieHebdo tt the tiny #Syrian boy who drowned wud have grown 2sexually harass #German women. pic.twitter.com/aYczuXEolP

— Hala Jaber (@HalaJaber) January 13, 2016
Outrageous. New Charlie Hebdo cartoon suggests dead 3-year-old refugee Alan Kurdi would have become sexual attacker https://t.co/Wl3h9zyhBz

— Sophie McNeill (@Sophiemcneill) January 13, 2016
This is not the first time the magazine has satirized the dead child. A 2015 cartoon featured Kurdi's dead body in front of a billboard for McDonald's advertising kids meals. "So close to the finish…" the caption read.
[Image via screengrab]
——
>>Follow Alex Griswold (@HashtagGriswold) on Twitter
Have a tip we should know? tips@mediaite.com