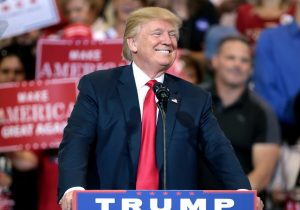 We already told you about one alternative ball that will be hosted in Washington, D.C. this weekend as Donald Trump takes the Oath of Office. That Peace Ball is actually happening tonight, Thursday, January 19 and another big anti-Trump event, the UnAugural Concert, is happening tomorrow.
There are plenty of other events — in favor of Trump, against Trump, and traditionally unaligned — that will be held over the weekend. Even PETA has a ball! Here is an overview of a few more.
For instance, one pro-Trump party is the DeploraBall. Here's what the website says about "the biggest meme ever":
There will be two Flagship events in Washington DC:
a DeploraBall℠ Party and a Formal Inaugural DeploraBall℠.

Both of these events are being thrown for the happy warriors who, without byline or book contract, advanced liberty across the country and the world via blogs, social media, guerrilla art, music, video, and good old-fashioned hard work.
The flagship gala will be on Friday the 20th and the MAGA3X Inauguration Eve DeploraBall Kickoff party is tonight. Don't get the DeploraBall confused with the ball hosted by Deplorables Nation tonight,though. Two separate events!
Tomorrow, the 20th, Trump will attend Liberty and Freedom: The Official Presidential Inaugural Balls and there will also be a Salute to Our Armed Services Ball. Both of those are markedly more official than PETA or anything hosted by self-identified "deplorables," but there are many other options for partygoers in the area.
Newseum is hosting an all-day event tomorrow that will give guests the chance to watch the events from within the iconic monument to free speech and the American press. After that, you could head to the National Portrait Gallery for the Great Gatsby Presidential Inaugural Ball, "Washington's largest non-political, political event," which gives attendees the opportunity to revisit the 1920s and all they entailed, from women's suffrage to Prohibition.
One of the biggest draws is sure to be tomorrow's Creative Coalition Inaugural Ball for the Arts, which brings together big names in art and entertainment to honor and support Arts in America.
There will be no shortage of options for anyone in the area, so whether you're happy about Trump's presidency or not, buy some tickets and get some drinks. It's going to be a long weekend.
[image: screengrab]
Have a tip we should know? tips@mediaite.com