Chicago City Council Approves Mayor Rahm Emanuel Plan To Offer Illegal Immigrants City ID Cards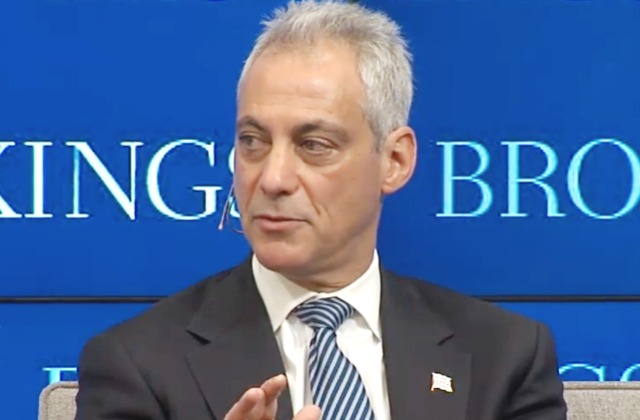 Chicago's city council voted on Wednesday to authorize a $3 million program proposed by Mayor Rahm Emanuel that would grant special city ID's for illegal immigrants and other groups.
The Chicago Sun-Times spotlighted the 44 to 4 vote in a Wednesday write-up. Mayor Emanuel asserted that the council had a "moral responsibility" to vote in favor of his plan, which would "help undocumented immigrants, homeless people, ex-offenders and domestic violence victims come 'out of the shadows.'"
One of the four "no" votes came from City Alderman Anthony Beale, who emphasized that "this is the jurisdiction of the state and federal government. Municipal ID's should not be administered by cities. The state and the federal government do a good job of doing that."
However, the mayor played up the recent deportation of a DREAMer under the administration of President Donald Trump:
"I would love for the federal government to be helpful… But, a short time ago, the President of the United States said he had a… soft spot for Dreamers. And just the other day, they deported their first Dreamer. It's a clear case of an erosion of a principle."
The Sun-Times article noted in a graphic that the new Chicago ID program is partially "modeled on the approach used in San Francisco." Emanuel also disclosed that "personal information that is provided to qualify for and obtain a municipal ID will not end up in the hands of U.S. Immigration and Customs Enforcement."
Chicago's city government didn't intend to limit the municipal IDs' appeal to just the illegal immigrant demographic. The newspaper spotlighted that "applicants also will be able to self-designate their gender, a nod to the LGBTQ community."
The program will also be "available to people with disabilities; also, people who are homeless or are victims of domestic violence will be able to designate an alternative address," according to the Sun-Times.
[image via screengrab]
Have a tip we should know? [email protected]