Chris Hansen Back To Catching Predators After Successful Kickstarter Campaign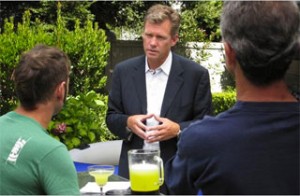 Seven years after NBC Universal cancelled the hit reality show To Catch a Predator, host Chris Hansen is once again asking alleged child predators to "have a seat" in the first ever crowd-funded sex sting operation.
Hansen launched the "Hansen vs. Predator" Kickstarter earlier this year to fund a reboot of the investigative-journalism-meets-vigilante-justice show, this time without the backing of a major production company. After a successful campaign, Hansen's team conducted their first sting operation earlier this month, nabbing 10 alleged child predators in Fairfield, Conn.
Despite lacking the cooperation of a major network, the sting did have cooperation from the Fairfield police and the State's attorney's office. Christopher Liddy, Fairfield deputy police chief, told The New Republic, "at the end of the day we completely understood that this was going to happen no matter what, and that we really had a responsibility to become involved and to ensure this neighborhood was safe."
Hansen cited a high demand for more investigations as a driving force in raising funds for the reboot. To Catch a Predator was cancelled in 2008 amid a torrent of criticism alleging the stings amounted to entrapment, and suggesting NBC was motivated by ratings, not justice. In 2008, NBC Universal settled a $105 million lawsuit with the family of Louis William Conradt Jr.,who shot himself after being accused of sexually explicit chats with a minor.
A federal judge in that case criticized NBC and To Catch a Predator, saying then network, "crossed the line from responsible journalism to irresponsible and reckless intrusion into law enforcement."
[Image via Shutterstock]
—
>> Follow Elizabeth Preza on Twitter (@lizacisms)
Have a tip we should know? tips@mediaite.com