Christie Tears Reporters Many New Ones During Roast: 'Clean the Sh*t Out of Your Ears!'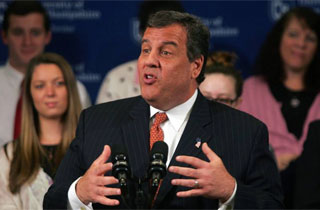 As expected, Governor Chris Christie (R-NJ) isn't particularly happy that the media's spending so much time covering Bridgegate and other such scandals. So during an off-the-record dinner with the New Jersey media corps, he delivered an expletive-filled roast that may have just been his unfiltered thoughts.
Bloomberg got their hands on an audio recording of the speech — hey, this is a room full of journalists; of course someone's secretly recording it — and uploaded it to their site, along with recaps of their favorite zingers from the New Jersey Legislative Correspondents Club dinner:
Of a car accident involving a reporter on his way to the event, he said: "Why wasn't the car bigger and why weren't more of you in it?"
And:
In 2012, Christie and Cory Booker, the former Newark mayor who now is a Democratic U.S. senator, collaborated on a video for the show that parodied the governor's potential as a vice president and the mayor's heroism after saving a neighbor from a fire. Posted on Christie's YouTube page, it's been viewed more than 400,000 times.

This year, he said, he had no video, not because he was too busy with his recent travel, but because "we just don't give a s— anymore."
And:
He told one journalist to "open your eyes" and "clean the s— out of your ears."

"This is a guy who says he doesn't know what I'm doing every day," Christie said of the New Jersey Legislative Correspondents Club president. "Then just get the f— away from me then if you don't know what I'm doing."
Go listen to the audio here via Bloomberg.
[Image via Chris Christie/Facebook]
—
>> Follow Tina Nguyen (@Tina_Nguyen) on Twitter
Have a tip we should know? tips@mediaite.com