Christine O'Donnell Fires Back At Sen. McCain For Insulting Her On Senate Floor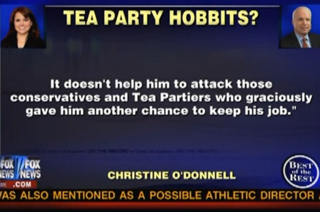 In a fit of anti-Tea Party rage, Sen. John McCain tossed a media exposure lifesaver out to former Delaware senatorial candidate Christine O'Donnell, insulting the Tea Party for having launched her to the Republican nomination. O'Donnell graciously accepted the opportunity to make headlines once again, releasing as epic a statement as we haven't seen since the Homeric tribute to Newt Gingrich last May.
Needless to say, being dismissed as a crazy candidate did not sit well with the Senate hopeful known mostly for having to clarify whether or not she was a witch. In a short and sweet statement, she reminded Sen. McCain of the "nightmare" that was his presidential race as proof that nominating Tea Partiers like her (and not "RINOs" like him) is the key to success:
I think that it is inappropriate to insult the judgment of the majority of Republicans in Nevada and Delaware and that the implication that nominating RINOs somehow means we win was irrefutably disproven by McCain's own presidential candidacy debacle. After that nightmare, McCain had to veer right so fast he almost got whiplash from all his flip-flopping just to keep his Senate seat. It doesn't help him to attack those conservatives and Tea Partiers who graciously gave him another chance to keep his job.
Those are fighting words, especially from someone who has never won a political campaign, ever. In related news, O'Donnell is close to releasing a book, which more people will now know thanks to Sen. McCain.
The report on O'Donnell's statement from tonight's On the Record via Fox News below:

Have a tip we should know? tips@mediaite.com