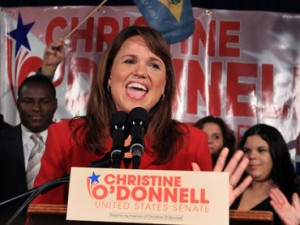 Who doesn't love surprise victories, witchcraft, and 90s hairstyles? Um, well, two out of three ain't bad, right? Whatever it was, the Christine O'Donnell story got wall to wall coverage with the Pew Research Center saying she and her victory in Delaware made up 30% during the week of September 13-19. Clearly O'Donnell had the news media by the balls (mostly because she wouldn't let them grab their own)*.
From Journalism.org:
"Christine O'Donnell's September 14 upset over nine-term Congressman Mike Castle pushed the midterm elections to the top of the news agenda, where it filled 30% of the newshole during the week of September 13-19, according to the Pew Research Center's Project for Excellence in Journalism. The previous high water mark for midterm elections was 18% the week of May 17-23, when incumbent Sen. Arlen Specter was defeated in the Pennsylvania Democratic primary.

Last week, the midterms were the top story in all five of the media sectors studied by PEJ and completely dominated the ideological radio and cable talk shows, accounting for nearly three-quarters of the airtime examined. O'Donnell herself generated so much attention that she proved to be the week's leading newsmaker, figuring prominently in almost twice as many stories as President Obama.

In the wake of O'Donnell's victory, the media narrative last week focused on several themes—the strength of the tea party movement, the possibility that Democrats might now hold an endangered Delaware Senate seat and growing fault lines between the GOP establishment and tea party insurgents."
If there's one thing that O'Donnell victory proved, it was the strength of the Tea Party. And, if there's one thing that the nonstop coverage of O'Donnell's victory proved, it's the media's obsession with them. Oh, and by the way, cheap jokes like the one I ended the first paragraph of this post with, probably made up about 20% of said coverage. I don't have scientific backing to prove that. Just guessing.
(via Poynter)
Have a tip we should know? tips@mediaite.com