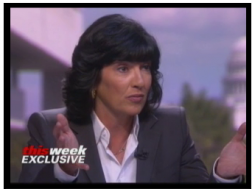 Christiane Amanpour made her much-anticipated debut as host of This Week this morning. Other than her presence it was difficult to find anything else about the show that was different.
While it goes without saying that Amanpour is one of the most recognizable and well-respected names in television reporting, much of the anticipation in regards to her takeover of ABC's long-running Sunday show was a direct result of the impressive mark Jake Tapper managed to leave during his temporary takeover of hosting duties. In a relatively short period of time he managed to make the show entirely his own, and develop a loyal following to boot. By the end of his tenure there was more than a little speculation that ABC had made a mistake by going outside their own newsroom to land a new host, and that Amanpour, a giant in the journalism world, suddenly had some very big shoes to fill.
It should be noted perhaps that Tapper's major influence on This Week — most notably the live-tweeting, Politifact checking, livelier more diverse roundtables — were all introduced after Amanpour's hire was announced and as such not part of the consideration process. Up until that point the anchor chair had featured a revolving array of familiar ABC faces, though Tapper was by far the strongest.
When ABC hired Amanpour they made quite a lot of noise about the different perspective she would bring to the show. They particularly focused on the international aspect of her reporting career and highlighted again and again that this was something the show would focus on, and also something that would differentiate it from other Sunday shows (another thing that will differentiate it is the fact she is a woman, something too long lacking in the Sunday chair carousel). Earlier this week, via Twitter, news that Ahmed Rashid would be a roundtable guest seemingly backing up this new international plan.
However what was most striking about the show this morning was how little had changed. In fact it was hard not to get the sense that Amanpour was merely filling in for Tapper. Smartly Amanpour has chosen to keep the live-tweeting and Politifact-checking. She also retained the Sunday funnies (something that long predates Tapper). And with the exception of Rashid, who participated remotely, her roundtable could not have featured a stronger array of usual suspects: George Will, Paul Krugman, Donna Brazile. This is not a complaint, mind you, just an observation. If nothing else the roundtable seemed more subdued — I feel like Amanpour's dignified presence may keep the liveliness to a minimum.
Obviously, this is only her first show. It's also August 1, which suggests ABC is interested in giving her some time to get the hang of things. Moreover, Amanpour is a pro and it would be both silly and short-sighted to dismiss her this early on. However, as much as I enjoyed Tapper (which was a lot) and as happy as I am to see the stronger features he brought to the show remain intact, it's hard not to get the sense that Amanpour missed an opportunity here to make a strong first impression and try out some brand new ideas unique to her. As it stands this still feels very much like Tapper's show. And if that continues to be the case a lot of people may begin wondering why the switch was necessary in the first place.
Have a tip we should know? tips@mediaite.com