Church Of Scientology Attacks Anderson Cooper's "History of Lies," "Silk T-Shirts"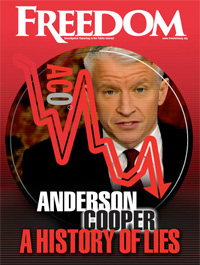 In March, Anderson Cooper spent a week of his show, Anderson Cooper 360, investigating the Church of Scientology and reports of its abuses and violence. More than three months after the series, titled "Scientology: A History of Violence," aired, the Church has decided to strike back. It has devoted an entire issue of Freedom magazine to attacking Cooper and CNN.
The magazine is published by the Church of Scientology and the cover reads, "Anderson Cooper: A History of Lies." The Church equates Cooper's definition of an investigation with yellow journalism and accuses him of refusing to speak with church officials. The magazine's website, which features most of the issue's print content, states, "Not only did CNN and Cooper refuse to interview these Church executives, including the International Executive Director, but they weren't even welcome to drop by CNN studios."
The Church essentially asserts that Cooper's reporting is a scam:
But what's absolutely unbelievable is that Cooper thinks he can get away with this hogwash and pull off what even the greatest hucksters in history failed to accomplish, i.e., fool all the people all the time.
In addition to criticizing Cooper, CNN and the show's interview subjects in print, the magazine has also included videos. One, in particular, attacks not only Cooper's Scientology series, but his reporting as a whole–and the clothes he wears while doing it:
"When an earthquake reduces Haiti to rubble, there he is, on site in designer jeans or cargo pants, to verify for himself that the villages were indeed reduced to rubble…

[How can CNN] still get away with calling itself the most trusted name in news? Although for that matter, how does Anderson Cooper get away with reporting from disaster sites in silk T-shirts, to blur the line between anchorman and male model?"
Coincidentally, Cooper happens to be back in Haiti in his borderline male model glory. Toward the end of the video (around the 11:30 mark), the Church literally puts words in Cooper's mouth by manipulating footage of him with audio of what the Church thinks he should have told viewers.
TVNewser reports that the magazine was distributed outside CNN's Manhattan offices on Monday. The Church's response is aggressive, but Cooper's is not the first investigation they've attacked. The magazine "exposed" BBC's Panorama and the St. Petersburg Times in 2007 and 2009, respectively.
Watch the entire video below:
Have a tip we should know? tips@mediaite.com