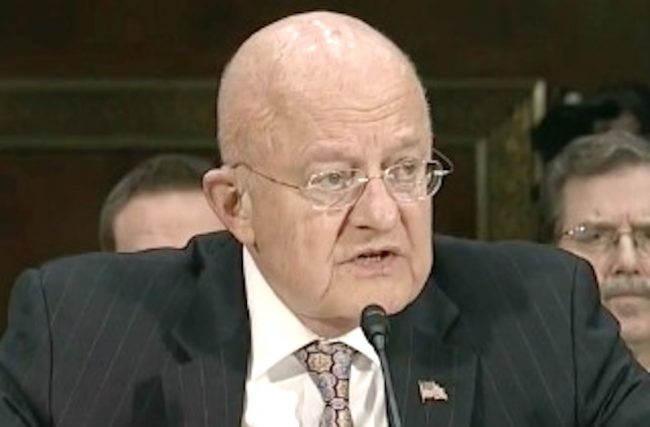 After former Director of National Intelligence James Clapper publicly questioned President Trump's fitness for office, Trump shot back by tweeting about him this morning:
James Clapper, who famously got caught lying to Congress, is now an authority on Donald Trump. Will he show you his beautiful letter to me?

— Donald J. Trump (@realDonaldTrump) August 24, 2017
This is not the first time the President has responded to critics by saying they've said nice things about them in the past, and CNN's Jake Tapper reports this afternoon on what Clapper had to say about that "beautiful letter."
As Clapper tells it, he had notes ready for both Trump and Hillary Clinton depending on the election results:
"The night before the election, we deployed two teams so that we would be ready to provide a PDB brief the next morning to whomever won," Clapper recounted, referring to the Presidential Daily Briefing. "I hand-wrote almost identical short notes to each of the two candidates to accompany the first brief as President-elect; only one actually got deployed — the one to him."

The note to Clinton, which went undelivered, congratulated her on her victory and said the intelligence community stood by to serve her with the best intelligence it could muster. The note to Trump said the same thing.
He said he had hoped Trump would "abide by the long-standing principal of the IC always telling 'truth to power,'" but after seeing this tweet…
Intelligence agencies should never have allowed this fake news to "leak" into the public. One last shot at me.Are we living in Nazi Germany?

— Donald J. Trump (@realDonaldTrump) January 11, 2017
…Clapper was unhappy that the President "shot the messengers."
[image via screengrab]
— —
Follow Josh Feldman on Twitter: @feldmaniac
Have a tip we should know? tips@mediaite.com
Josh Feldman - Senior Editor