Clarification For Media: Only Two Of The Soldiers Killed In Niger Were Green Berets
As reporters and news outlets press the Pentagon and White House for details and facts surrounding the death of four American soldiers in Niger at the hands of radical Islamic Terrorists, it's important to be precise in how facts that we already know are reported and disseminated.
To that end, I was confused and frustrated over the constant reporting over the past several days of "four Green Berets" killed in this ambush on October 4th. The problem with these reports is that not all four of the soldiers were Green Berets. It's obvious when you look at their official photographs released by the Department of Defense. Two of the soldiers, Sgt. La David Johnson and Staff Sargent Jeremiah Johnson, are not wearing green berets.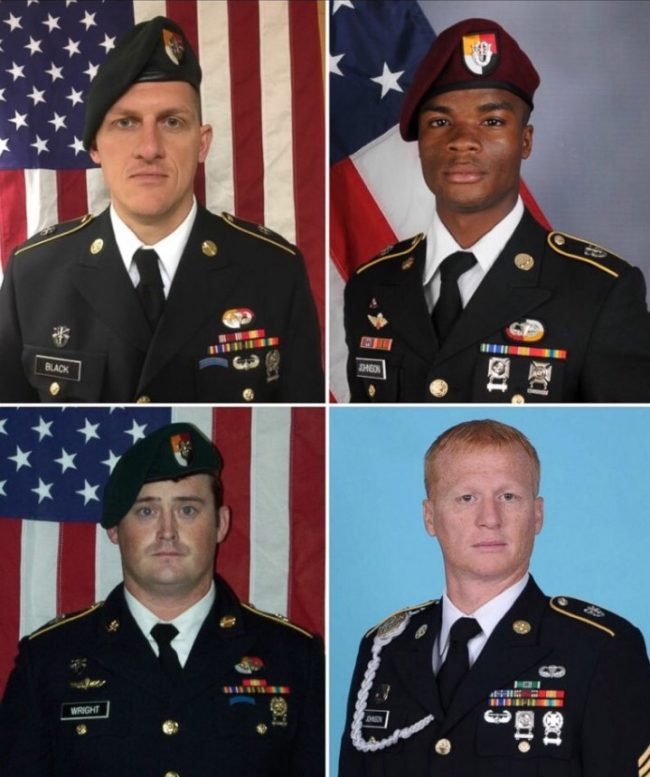 Here's a report from The Hill:
Trump came under criticism on Monday for his delayed response to the deaths of the four Green Berets, who were killed on Oct. 4 during a joint patrol with 40 Nigerien troops.
Here's the liberal site Think Progress. Here's the conservative site Red State. Here's Washington Examiner. And the New York Times. And the Daily Beast. It goes on and on.
I received confirmation yesterday from Lt. Col. Michelle Baldanza, Spokesperson for the Department of Defense, that neither Sgt. Johnson nor Staff Sgt. Johnson were actual Green Berets. They were soldiers assigned to a Green Beret unit and they provided support for the unit.
This was actually laid out in the initial Military Times report of their deaths:
Sgt. La David Johnson, 25, died in the Oct. 4 attack on the patrol. His body was recovered on Oct. 6.

He was assigned to 3rd Special Forces Group (Airborne) on Fort Bragg, N.C.

Johnson, a native of Miami Gardens, Florida, enlisted in the Army in January 2014 as a Wheeled Vehicle Mechanic.
This detail should, in no way, take away from the heroism, bravery and honor of these two soldiers' sacrifice for their nation. But there is a difference between a soldier and a Green Beret. It is like the distinction between a sailor and a Navy Seal. It is not an insignificant distinction and it really matters to members of the military.
It may seem like a small matter, but as members of the media decry the label of "fake news" and they complain about the Pentagon and their slow walk on facts and details of this mission, we should all do what we can to report the facts correctly and not get small, but significant facts like this wrong.
Have a tip we should know? tips@mediaite.com