Clint Eastwood: 'Pussy Generation' Is Being Too Harsh on Trump by Calling Him a Racist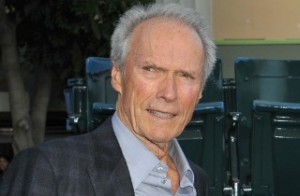 Clint Eastwood has some thoughts on Donald Trump and how the "pussy generation" of Americans is reacting to him.
Eastwood did a joint interview with his actor son Scott Eastwood––whose new movie Suicide Squad is getting such critical reviews, it's driving fans to Republican Party levels of meltdown––and the Esquire interviewer brought up Trump to get his thoughts.
Well, for starters, he would rather go for Trump than Hillary Clinton, saying of her, "I mean, it's a tough voice to listen to for four years."
He said that Americans don't work hard anymore and instead like to get offended for a living:
[Trump's] onto something, because secretly everybody's getting tired of political correctness, kissing up. That's the kiss-ass generation we're in right now. We're really in a pussy generation. Everybody's walking on eggshells. We see people accusing people of being racist and all kinds of stuff. When I grew up, those things weren't called racist. And then when I did Gran Torino, even my associate said, "This is a really good script, but it's politically incorrect." And I said, "Good. Let me read it tonight." The next morning, I came in and I threw it on his desk and I said, "We're starting this immediately."
Eastwood is a very politically outspoken person and yes, he thinks people are going too far to suggest that Trump's targeting of Hispanics and Muslims are racist:
You know, he's a racist now because he's talked about this judge. And yeah, it's a dumb thing to say. I mean, to predicate your opinion on the fact that the guy was born to Mexican parents or something. He's said a lot of dumb things. So have all of them. Both sides. But everybody—the press and everybody's going, "Oh, well, that's racist," and they're making a big hoodoo out of it. Just fucking get over it. It's a sad time in history.
Oh, and in case you're wondering, Eastwood did talk about his infamous empty chair convention speech. You can read the whole thing here.
[image via Shutterstock]
— —
Follow Josh Feldman on Twitter: @feldmaniac
Have a tip we should know? tips@mediaite.com
Josh Feldman - Senior Editor