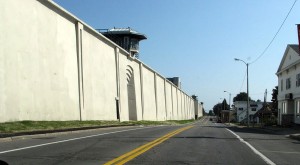 The New York Times reports that several Clinton Correctional Facility inmates, who were all on the "honor block" with recent escapees Richard Matt and David Sweat, were allegedly tortured and beaten following the June escape.
The article, which was published on Tuesday, provides harrowing details from several interviews with prisoners, personal letters exchanged between the prisoners and their families and friends, and official documentation regarding state and third party investigations into the matter.
Several instances are discussed, yet perhaps the most shocking account is that of Patrick Alexander:
Night had fallen at the Clinton Correctional Facility when the prison guards came for Patrick Alexander. They handcuffed him, took him into a broom closet for questioning, and then, Mr. Alexander said in an interview last week, the beatings began.

As the three guards, who wore no name badges, punched him and slammed his head against the wall, he said they shouted questions: "Where are they going? What did you hear? How much are they paying you to keep your mouth shut?"

One of the guards put a plastic bag over his head, Mr. Alexander said, and threatened to waterboard him.
According to the NYT's own investigation, Alexander, whose cell was right next to Matt's, immediately became a target. The first beating lasted about 20 minutes, after which the prisoner was returned "bleeding" to his cell.
Victor Aponte, on the other hand, was targeted because he worked in the prison's tailor shop with Matt. He described the event in a letter to Prisoners' Legal Services, a non-profit overseeing the third party investigation:
One officer stood in front of a window blocking the view into the room, he wrote, while another guard in a C.I.U. windbreaker tied a garbage bag around his neck, "using the plastic bag as a hanging noose."

"I don't know how long he hung me up like that because I passed out," Mr. Aponte wrote.

Mr. Aponte, along with several other inmates, said they were initially denied medical care. Days later, when he was finally taken to the prison clinic, officers warned him not to tell the medical staff how he got his injuries, he wrote in a letter.

"The sergeant tells me that I've been in prison for long time and I should know better, that if I didn't tell the nurse that was going to examine me that nothing has happened that they were going to kill me for real this time," he wrote.
Several others have filed similar complaints with Prisoners' Legal Services. According to Michael Cassidy, an attorney for the organization, such letters have been coming "from around the state."
That's because, following beatings like Alexander's and Aponte's, prisoners were transferred off the honor block to other correctional facilities across New York. Many claim they were beaten by guards and members of CERT, the Correction Emergency Response Team, while being transferred. In addition, most lost all their possessions, too — books, family photographs, letters and more.
As of this writing, the Department of Corrections has yet to issue an official response to the NYT or anyone else on the matter.
[Image via Bubby1124/Wikimedia Commons]
— —
>> Follow Andrew Husband (@AndrewHusband) on Twitter
Have a tip we should know? tips@mediaite.com