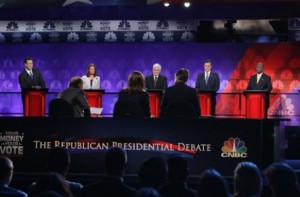 CNBC is looking to set debate standards that will limit the number of candidates invited to the third Republican presidential debate on October 28, reports Politico.
The previous two debates featured ten and eleven candidates, but moderator Chuck Todd hinted in an interview with ESPN that he plans to limit the number of podiums. "Let's just say the goal is to create a threshold that candidates have to meet to qualify for the stage rather than committing to putting 10 candidates on the stage. And I don't think we should commit to more than 10-candidate debates. You have to be viable."
Todd went on to give some hypothetical debate standards that could size down the number of spots, including limiting the debate to those who earned at least 5% in New Hampshire or Iowa. Under that standard, candidates like Rand Paul, Mike Huckabee, Chris Christie who made it into previous debates would not qualify without a bump in their poll numbers.
There are also currently no plans to introduce an earlier second-tier debate to accommodate candidates who could not make the primetime debate. "I doubt there will be an undercard," RNC spokesman Sean Spicer said on CNN the day after the second debate.
Politico reports that Republican candidates are getting increasingly antsy. "With the next debate a month away, it is maddening that the RNC has yet to provide any guidance to campaigns regarding the criteria that they and CNBC plan to use to exclude candidates," they quote an advisor to Bobby Jindal saying.
[Image via screengrab]
——
>>Follow Alex Griswold (@HashtagGriswold) on Twitter
Have a tip we should know? tips@mediaite.com