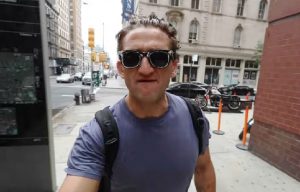 Earlier this month, YouTube star Casey Neistat announced that he was ending his daily vlog so he could concentrate on other endeavors. well, it appears we got an answer this morning over what his future entails.
CNN announced that they were partnering up with Neistat and Matt Hackett to start a new media brand. Neistat and Hackett are the co-founders of Beme, a mobile video technology company that CNN has now purchased. According to the network, all 11 Beme employees will be folded into CNN and the new standalone media company will debut in summer 2017.
According to CNN, the Beme app will cease to exist as the team will focus all of its energy on launching the new brand.
As far as the direction of the new media company, the network provided the following glimpse:
The new company will be devoted to filling the world with excellent, timely and topical video and empowering content creators to use technology to find their voice. It won't be what most people think of as "news," but it will be relevant to the daily conversations that dominate our lives. Casey has tapped into a highly engaged audience – they're curious, hungry and young and they're eager to learn more about the world. We'll start there. And then we'll find ways to connect with millions more. Stay tuned for more.
Neistat will serve as Executive Producer of the company and will be responsible for the editorial direction of the content the brand releases. Hackett will be in charge of building the digital technology and develop the mobile capabilities.
CNN also made sure to highlight that this new endeavor will be different than the recently launched Great Big Story. While Great Big Story focuses on untold stories unrelated to the news cycle, this new brand will be about entertaining and topical content.
[image via screengrab]
–
Follow Justin Baragona on Twitter: @justinbaragona
Have a tip we should know? tips@mediaite.com