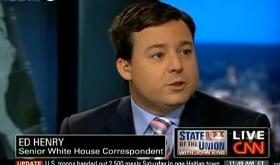 The tight special election Senate race in Massachusetts between Martha Coakley and Scott Brown concludes tomorrow, and Pres. Obama's trip to Boston to stump for Coakley drew major attention on the cable newsers yesterday.
But CNN Chief White House Correspondent Ed Henry's reporting, that Pres Obama advisers believe Coakley will lose, caused the White House to push back in new, unique ways.
During yesterday's State of the Union, Henry started the ball rolling: "I was told very reliably that a couple of the President's top advisers have told senior Democrats they think Coakley will lose."
This was followed with a blog post on CNN.com. "The presidential advisers have grown increasingly pessimistic in the last three days about Coakley's chances after a series of missteps by the candidate, sources said," writes Henry.
The report raises questions over why Pres. Obama would go up to campaign for Coakley yesterday if he or his advisers believed she would lose two days later. And that's when White House Deputy Press Secretary Bill Burton weighed in – using his infrequently used Twitter. He started by linking to the CNN.com story. "I wholeheartedly disagree," he wrote. Then:
The President is in MA today because he believes Martha Coakley is the right person for the job and indeed will be the next senator from MA.
David Axelrod was predicting a Coakley victory as well – publicly, of course.
Henry retweeted Burton, and added his comment to the original CNN.com story. And after being attacked by some at left-wing sites like Daily Kos, he expanded on who his "sources" were on Twitter:
and that is what i am still saying on Twitter: advisers to the President told senior Dems they think Coakley will lose.

i never said on air or Twitter that the Obama advisers directly told me this. i said then & now the Obama advisers said this to senior Dems

senior Dems then told me what the Obama advisers are saying in private. "askew" at DailyKos needs to quote me accurately (r u on twitter?)
Whether the President believes Coakley will win won't really matter tomorrow – what matters is whether she wins or not. And it's a race the entire media is geared up and ready to focus on in full force.
Here's Henry's initial comments:


—–
» Follow Steve Krakauer on Twitter
Have a tip we should know? tips@mediaite.com