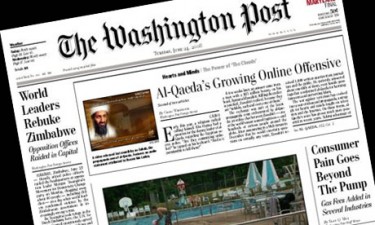 In Sunday's column by Washington Post ombudsman Andrew Alexander, the increase in typos and other copy editing errors stood trial. Apparently, angry letters have started coming more frequently, wondering, for example, "If they don't care about basics like grammar and spelling, how much do they care about factual accuracy?" Alexander served up the standard Old Media 2010 answer: our staffs have shrunk! But he also had a bizarre new scapegoat, namely, search engine optimization. Huh?
"Through buyouts and voluntary departures, the number of full-time copy editors declined from about 75 to 43 between early 2005 and mid-2008," he explained. "There was another round of buyouts last year, but it hasn't yet resulted in a sharp decrease in the number of copy editors." Well then, what could it be?
The answer may be less about staffing levels and more about the changing duties of copy editors. Gone are the days when they primarily detected errors and smoothed prose for the next day's newspaper. Now they must also operate in an online environment where "search-engine optimization" is a key goal. That requires new skills and time-consuming additional duties.
That is to say, writing a Google-able headline is the reason that, "A story about an Arlington National Cemetery burial described a soldier wearing "shiny black boats" (instead of boots)." Sounds dubious. Sure, SEO is an added pressure, but does it really block one's ability to differentiate "breaks" and "brakes?" Though it's true, in a newsroom, as behind the scenes at a website, we're all busy. "We're now multiplatform," said the "multiplatform editing chief" Anne Ferguson-Rohrer. But this explanation is neither specific enough, nor comforting.
And Alexander's 'solution' is equally vague and confusing. "This week, The Post will begin search-engine optimization training for the entire newsroom. Front-end help from reporters and other staff should ease the burden on copy editors," he wrote.
First lesson: cute babies, cat video, Lindsay Lohan, Twilight, am I sick?, nip slip, Lady Gaga, hot Megan Fox. Now clean up that paper!
Have a tip we should know? tips@mediaite.com