Critics Shout 'Fake News' as CNN's The Lead Shows Satirical National Enquirer Cover
Yesterday, Page Six published an 'EXCLUSIVE' report on CNN apparently in panicking over another major screw up, once again showing that they are delivering "fake news."
So, what was this huge bombshell? A package CNN showed on yesterday's broadcast of The Lead briefly showed a satirical cover of the National Enquirer that had been floating around since last year.
Here's a screengrab of that moment: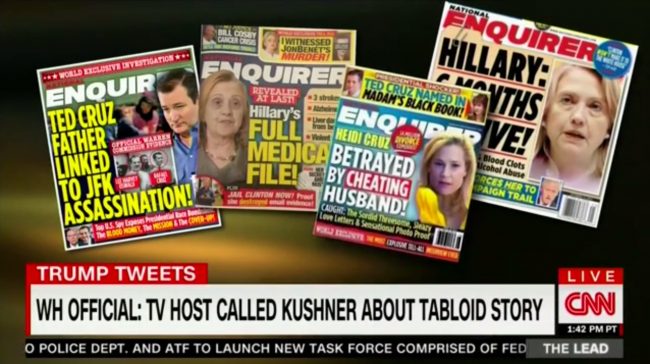 The cover in question — out of the four showed in that in that moment — is the one indicating that Heidi Cruz was "Betrayed By Cheating Husband" with a picture of Mrs. Cruz. However, this is a mocked-up version of this actual cover from the Enquirer: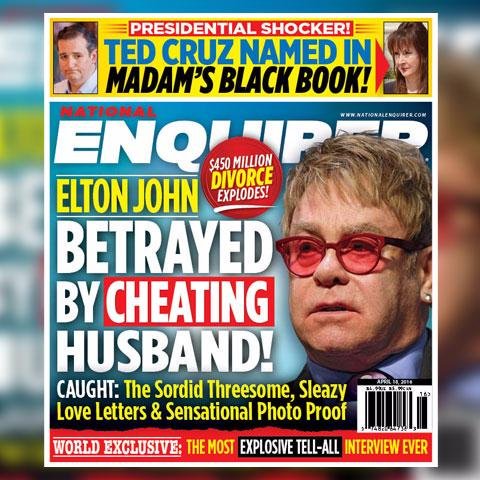 The satirical cover came out shortly after and led at least one person — conservative commentator Debbie Schlussel — to be so fooled by it at the time as to write a column about it. (She later updated it after discovering the truth.) What likely made it easy to mock up was the other salacious details the magazine hyped about Ted Cruz on the cover.
Page Six noted that they were told those at the network "flew into a panic" since the offending cover "has never appeared on the National Enquirer." It also reported that CNN is "taking the matter seriously" and has referred it to their standards and practices department.
Now it wasn't just Page Six that labeled this fake news while highlighting CNN's recent controversy surrounding a retracted Russia probe story and the subsequent resignations of three journalists. Breitbart News also reported on this story by using the headline 'More Fake News: CNN Airs Fake National Enquirer Cover.'
It is apparent now that since that scandal, critics of CNN are going to use every little mistake or flub to slam the network and claim it is further proof that CNN is "fake news" or whatever. Especially with the president upping his online attacks on the network, something he exhibited this morning when he took to Twitter to make this comment:
I am extremely pleased to see that @CNN has finally been exposed as #FakeNews and garbage journalism. It's about time!

— Donald J. Trump (@realDonaldTrump) July 1, 2017
Watch CNN's report above utilizing the photoshopped cover.
[image via screengrab]
—
Follow Justin Baragona on Twitter: @justinbaragona
Have a tip we should know? tips@mediaite.com