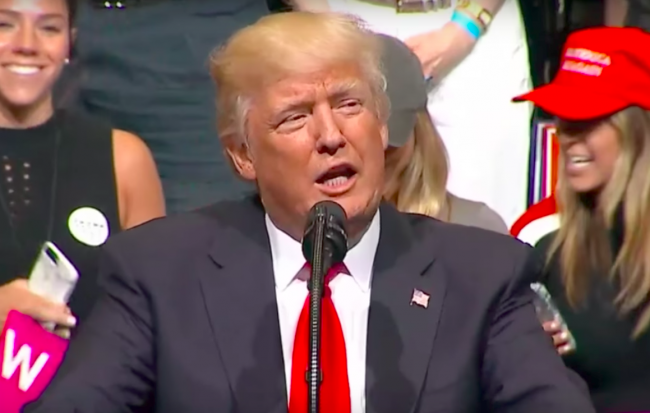 Dear Mr. President,
As a Senior Editor at Mediaite, I would like to offer you a job. Our website focuses on the intersection of news, politics and entertainment and we feel there is nobody in the world more qualified to join our ranks.
Over the last six months, you've demonstrated a tremendous passion for television and have consistently offered pithy analysis of the inner workings of the industry. Though entirely unrelated to your current responsibilities, it is exactly the kind of obsession and dedication needed to succeed in a high pressure environment like Mediaite.
Naturally, even a casual glance at your Twitter shows you would be a natural, and a scoop machine.
Big management changes? Tell me more.
Fake News CNN is looking at big management changes now that they got caught falsely pushing their phony Russian stories. Ratings way down!

— Donald J. Trump (@realDonaldTrump) June 27, 2017
Is the CNN retraction scandal just the tip of the iceberg. I'll take it!
Wow, CNN had to retract big story on "Russia," with 3 employees forced to resign. What about all the other phony stories they do? FAKE NEWS!

— Donald J. Trump (@realDonaldTrump) June 27, 2017
… And we've heard you have thoughts about "Fake News"?
In addition to all that, Mediaite management has also been struck by your devotion to keeping track of industry ratings. You would be a STAR in a genre often wrongfully dismissed as horse race drudgery and natural catnip to PR hounds from Fox to C-Span.
Congratulations to @FoxNews for being number one in inauguration ratings. They were many times higher than FAKE NEWS @CNN – public is smart!

— Donald J. Trump (@realDonaldTrump) January 25, 2017
Arnold Schwarzenegger isn't voluntarily leaving the Apprentice, he was fired by his bad (pathetic) ratings, not by me. Sad end to great show

— Donald J. Trump (@realDonaldTrump) March 4, 2017
One of the best produced, including the incredible stage & set, in the history of conventions. Great unity! Big T.V. ratings! @KarlRove

— Donald J. Trump (@realDonaldTrump) July 22, 2016
Now of course, there has been the occasional controversy with this or that media figure. But that shouldn't worry you. As a Mediaite employee you would be empowered to battle, wage war, and WIN against all your enemies on social media. Unlike a deep state bureaucracy, we would value your unique voice and encourage you to take on bullies like Mika Brzezinski and Ted Cruz's "ugly" wife.
Do ugly, bleeding, fake news people like Mika Brzezinski  (as you have called her) even deserve rights at all? That's an interesting column.
We know you've recently started a new job and this proposal may come at an awkward moment, but if there's interest on your end, we would be committed to working around you schedule. Even a few hours a week during the morning shows or prime time or even weekends, would be all we need. Someone of your high intelligence could bang out several smart takes before you even hit the ninth green at Mar-a-Lago or Trump National in Bedminster.
There is no one in the world more qualified for a job at Mediaite and we'd love to have you on the team. If interested, please feel free to reach me at JonL@Mediaite.com or on Twitter @LevineJonathan.
Best,
Jon
[image via screengrab]
This is an opinion piece. The views expressed in this article are those of just the author.