CO Parents Urged to Send Girls to 'Wake Up Sleeping Beauty: Worship at His Feet' Purity Training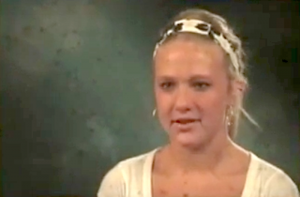 A few days ago, parents in Colorado's Mesa Valley School District 51 got a flyer in their email inboxes, like they do on a pretty regular basis. This one was special, however, because it was advertising a purity-based course on finding a good husband for adolescent girls called "Wake Up Sleeping Beauty: Worship at His Feet."
Along with the flyer, a video advertising the event showcases a father watching his daughter grow up. "Your little princess is so much more than just a pretty face," it says, urging fathers to sign their daughters up for the seminar. "Protect her purity and teach her about true beauty."
In Colorado, this sort of thing isn't unheard of. The demand for purity balls — which are prom-like parties during which young girls pledge to their fathers that they will remain virgins until they're married — is relatively high there. "Wake Up Sleeping Beauty" is just taking that to the next level by promoting itself through a public school's email blast system.
District 51 has a policy against distributing any material which "demeans a person or group based on gender," which is would be great news for the parents who don't want the flyer plastered around the halls of the local middle and high schools, since it quotes from Luke 7:38, which describes a woman lowering herself to wash a man's feet. Too bad the district doesn't see it that way and dismissed the parents' concerns by saying they don't think "the flyer promotes a religious organization or demeans a person or group on the basis of gender."
The problem is that the flyer does promote a religious organization. June Fellhauer, the founder of Wake Up Ministries, describes the Bible study group as something God inspired her to do.  In the talks she uploads to YouTube and invites girls as young as 11 to attend in person, Fellhauer shares her belief that women are designed by God to be weaker counterparts to men. "We are completers, not competers," she tells the girls in the audience, many of whom are nearing the age when they will begin to think about college. In the same talks, she discusses men's "conjugal rights."
Girls who have completed the course have provided testimonials about the sorts of husbands they're looking for. The girls don't look any older than 15 as they report they're on the hunt for someone their parents will approve of and someone who can protect them.
Fellhauer's promotional materials for the "Worship at His Feet" event include similar testimonials and a segment during which she describes kissing with tongues as something that triggers a gag reflex and is to be avoided.
"What seems like your greatest defeat could actually be your greatest victory," enthuses one of the girls in the testimonial. For Fellhauer, that is probably true, because while she espouses archaic Christian values to a bunch of little girls, the administrators of District 51 are looking the other way.
[image via screengrab]
For more from Lindsey, follow her on Twitter.
Have a tip we should know? tips@mediaite.com