College Professor Who Criticized Trump in Classroom Now in Hiding Over Death Threats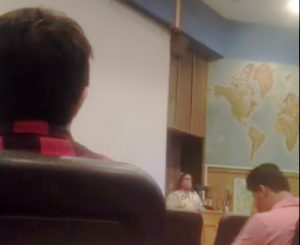 A professor at a California college has now left the state and gone into hiding following a number of threats after video of her criticizing President-elect Donald Trump to her students was posted online.
Olga Perez Stable Cox, who teaches human sexuality at Orange Coast College, was taped by a class attendee addressing the classroom shortly after the election. In the videos, Cox could be heard referring to white supremacy as related to Trump and calling vice-President-elect Mike Pence "one of the most anti-gay humans in the country.
Per the Orange County Register, Cox, her union and OCC have received threatening emails, phone calls and Facebook comments since the videos were made public.
The professor, the union that represents her and the college have received more than 1,000 emails, calls and Facebook comments – most of them critical of Cox, who a week after the election was recorded on video telling students in her human sexuality class that "we're really back to being (in) a civil war."

"Someone emailed her a picture of her house, with her address," said Rob Schneiderman, president of the Coast Federation of Educators/American Federation of Teachers Local 1911. The email called Cox a "libtard, Marxist, hatemonger, nutcase" and said "her home address is now going to be sent everywhere," he added.

Others threatened her livelihood, some her life.

"You want communism, go to Cuba … try to bring it to America and we'll put a (expletive) bullet in your face," read an email to her.
Earlier this week, students gathered to both show support for Cox and condemn her comments. One group consisting of hundreds carried signs defending free speech while explaining how many lives she's positively impacted at the school over the years.
Another smaller group of College Republicans, who publicly released the videos, also showed up at the rally and played her classroom comments on a computer. They pointed out that their issue is that Cox was pushing her own political agenda.
A couple of students in Cox's class stated that she tried to forced those whop voted for Trump to stand up and acknowledge they were Trump supporters. However, the union president claimed that has been misconstrued, and that Cox was offering students who voted for the incoming POTUS to stand up to show their approval after one student did.
A substitute will cover Cox's classes for the remainder of the semester.
[image via screengrab]
–
Follow Justin Baragona on Twitter: @justinbaragona
Have a tip we should know? tips@mediaite.com