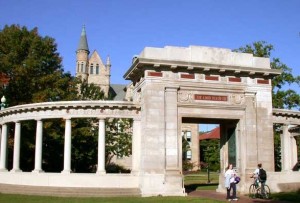 There's political incorrectness, black humor, dark satire, and then there's this. A student at Oberlin College was questioned by police over a series of unbelievably shocking and racist flyers he put all around campus, with liberal use of "faggot" and the n-word. When questioned about this overtly racist material and defacement of school property, the student involved explained to police that he's not actually a racist, it was just a "joke" deliberately designed to create an "overreaction" on campus. Oh. Well, that's all right then.
Raw Story details bit by bit what this unnamed student put up around campus (this is all obviously offensive, so read on at your discretion).
On February 9 alone, students found swastikas on glass doors, posters declaring "The Third Reich Lives On," and flyers that read "For N****r jokes and racist Humor visit N****rmania.com and N****rmania.net." The next day, posters for the sociology departments "Year of the Queer" had been defaced, with the word "Queer" struck-through and "F****t" in its place.

For the next week, the campus grounds were regularly defaced. The Multicultural Resource Center was rechristened "N****R + F****t Center," and English professors found their doors plastered with flyers that read "THE OVENS ARE TOO GOOD FOR YOU N****R + N****R LOVING K***S!" and "FORGET YOUR SNIVEL RIGHTS N****R! JUST BE GLAD YOUR [sic] NOT ALL IN CAGES!" Signs declared certain water fountains to be "WHITES ONLY."
One female student found a flyer on her door reading, "CELEBRATE N****R HISTORY MUNF! RAPE A WHITE WOMAN!"
The police report says this student also "took credit for a Nazi flag" and pasting the head of the college president on a picture of Hitler. And his explanation?
He was trying to make a point that the student body drastically overreacted to earlier racist postings over campus.
What a lively, hilarious sense of humor this not-at-all racist person has.
Two months ago, Oberlin cancelled classes in a "day of solidarity" following reports of someone walking around campus in KKK garb.
—–
Follow Josh Feldman on Twitter: @feldmaniac
Have a tip we should know? tips@mediaite.com
Josh Feldman - Senior Editor