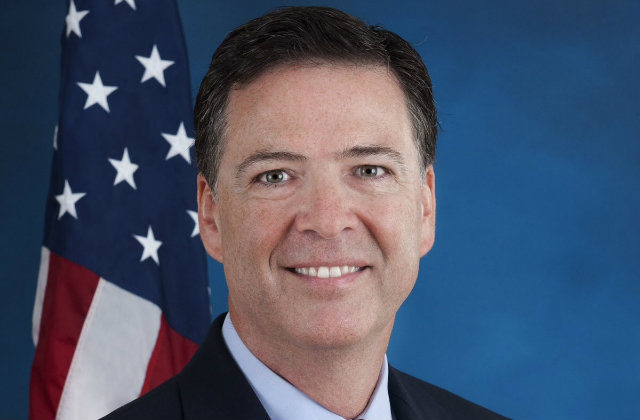 Talking heads are already locking onto various portions of James Comey's prepared statement for his Thursday testimony, such as the reported "loyalty" remark from President Donald Trump and the possible obstruction of justice related to Michael Flynn investigation. However, Comey also detailed that he treated Mr. Trump differently than former President Barack Obama.
The former FBI director led his statement by detailing his January 6, 2017 briefing with the then-President-Elect, which included other leaders from the intelligence community. Near the end of his account, Comey noted that he "felt compelled to document my first conversation with the President-Elect in a memo." He started this first summary "on a laptop in a FBI vehicle," and disclosed that he made such "records immediately after one-on-one conversations with Mr. Trump was my practice from that point forward."
Comey continued by revealing that "this had not been my practice in the past." He summarized that he had conversed "alone with President Obama twice in person (and never on the phone) – once in 2015 to discuss law enforcement policy issues and a second time, briefly, for him to say goodbye in late 2016. In neither of those circumstances did I memorialize the discussions."
Trump supporters are sure to accuse the former top Justice Department official of having a double standard regarding his approach to Mr. Obama versus his treatment of President Trump. Pro-Trump and anti-Trump Twitter users alike pointed out this detail on Wednesday.
Comey kept notes on a conversations with Trump but not a criminal investigation with Clinton, Lynch or Obama

— ?Wayne Dupree (@WayneDupreeShow) June 7, 2017
Or when Comey details how many times he typically meets with presidents (just twice with Obama vs NINE TIMES IN FOUR MONTHS with Trump…) pic.twitter.com/8tnyn3QPbS

— Joy Reid (@JoyAnnReid) June 7, 2017
Seriously, y'all. Who believes this SH*T?

Comey didn't take any notes on Obama, but suddenly picked up the practice w/Trump!

C'mon man!??? pic.twitter.com/4jEV7kicHX

— Boston??Bobblehead (@DBloom451) June 7, 2017
Comey met trump alone 9 times in 4 months! Met w/Obama alone 2 times in 8 years! "Senate Intelligence Committee" https://t.co/OPra94tujh

— Always4Hillary (@MtinaMorgan) June 7, 2017
[image via screengrab]
Have a tip we should know? tips@mediaite.com