Concha: Elite Law Schools Set Poor Precedent Granting Ferguson 'Trauma' Exam Extension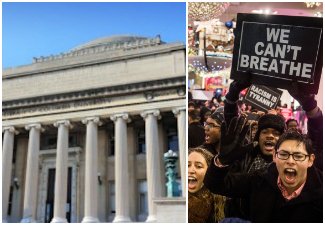 First it was Columbia Law School. Then Georgetown. What is "it" you ask? Each institution granting extensions for its law students on their final exams due to–and no, this really isn't a joke–trauma over the Michael Brown and Eric Garner grand jury verdicts.
Per an official statement from Columbia University's administration:
The grand juries' determinations to return non-indictments in the Michael Brown and Eric Garner cases have shaken the faith of some in the integrity of the grand jury system and in the law more generally. For some law students, particularly, though not only, students of color, this chain of events is all the more profound as it threatens to undermine a sense that the law is a fundamental pillar of society designed to protect fairness, due process and equality.
That said, in an attempt to get a feel on how the average lawyer–still on the front nine in terms of age–currently practicing feels about this decision, I turned to two friends: Melissa (a Penn Law graduate and currently working at a firm in Manhattan), and Carla (who graduated University of Florida Law). So first, how does Melissa feel about this move by some of the country's most elite institutions?
"Being disheartened or finding the legal system unfair is no reason to suffer such emotional distress as to prevent a student from taking a simple exam… an exam the student should have been prepping for weeks in advance," Melissa (not a pseudonym) explains. "Should these thin-skinned individuals ever practice law, I'm hard-pressed to believe that the people they will be working for–in some instances women who have come back to work a mere 48 hours after giving birth in order to close a deal… or men who missed their father's funeral, because of a work deadline–will give a damn about their personal tragedies."
But another thirtysomething lawyer friend, Carla (also not a pseudonym), disagrees: "As a lawyer, I'm not sure if 'trauma' is the right word. But decisions like this can be very distracting in law school, even the professors will change lesson plans to accommodate such debates about current events that are legal in nature. Also, in law school your entire grade is based on the final exam. And at these Ivy League schools, your GPA means everything. So I can understand the students asking for this."
Both are smart women and both make solid points. To Carla point, the pressure is already distracting enough. But trauma due to a grand jury decision? That's patently a new one. Should some feel anger after such verdicts, particularly out of Staten Island? Of course. Disappointment? Absolutely. Confusion? Sure. But were law students at UCLA or Cal Berkeley granted extensions or days off after the O.J. not guilty verdict back in 1995? Were those studying at the time of the Casey Anthony decision so traumatized they simply couldn't even consider going to class three years ago when that was handed down? To call it wussification is an insult to wussies everywhere.
Columbia Law School has declined direct comment at this time. Per The Washington Post, "Harvard, Yale and Georgetown have reiterated pre-existing policies that allow students to postpone exams due to traumatic events." Some Harvard and Yale law students are petitioning for an extension as well, but approval is still being weighed by officials at each school.
Levity aside, this sets a horrible precedent moving forward. Here's how the aforementioned Melissa puts it: "Contrary to what these schools are teaching them, deadlines aren't made to be missed, and in the real world, missing a deadline costs money and that will cost someone his/her job."
— —
>>Follow Joe Concha on Twitter @JoeConchaTV
Have a tip we should know? tips@mediaite.com