Concha: Kudos to NY Times' David Carr for Taking on Reckless Conservative Blogger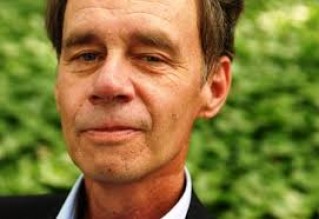 One of America's most well-respected journalists and columnists is the New York Times' David Carr. His actions this week have only further cemented that reputation.
For those not familiar, Carr is a media writer who has worked at the Times since 2002. He's also the best-selling author of one the better memoirs you'll ever read, The Night of the Gun, which details his dark past as a cocaine abuser and how he was eventually able to overcome that addiction. In the Times, what makes Carr's columns so enjoyable is the candor and clarity he brings, the "candor" part most recently displayed when he admitted — without being pressured to do so in any capacity — he was wrong for not pursuing sexual assault claims against Bill Cosby in the past. Here's part of his column, Calling Out Bill Cosby's Media Enablers, Including Myself:
…those in the know also included me. In 2011, I did a Q. and A. with Mr. Cosby for Hemispheres magazine, the in-flight magazine of United Airlines, and never found the space or the time to ask him why so many women had accused him of drugging and then assaulting them.

We all have our excuses, but in ignoring these claims, we let down the women who were brave enough to speak out publicly against a powerful entertainer.
Again, Carr was under no obligation to write this confession; he wasn't shamed into it. You can agree or disagree with his perspective on other matters, but you can't call him a hypocrite.
All of that said, it was great to see Carr take on the reckless and ridiculous Chuck Johnson — a conservative blogger — over his decision to print the addresses of New York Times reporters Julie Bosman and Campbell Robertson in retaliation for the paper revealing the street name (not exact address) and town of a home Ferguson police officer Darren Wilson owns outside of St. Louis at the height of the protests that engulfed the area following the Michael Brown grand jury decision.
Should the Times have shared that information? Absolutely not, as noted in this space without ambiguity at the time. Did the paper also share the name of Wilson's new wife, who is a fellow police officer and therefore a target for the "What do we want? Dead Cops! When do we want it? Now!" crowd? It did. And by simply providing the street address, anyone seeking retaliation could simply burn down every house on the block to cover their bases, thereby putting everyone — men, women, children — at risk on that street and, at the very least, have them living in fear.
"We are paying $5k cash for location of Ofc. Darren Wilson," a group based in St. Louis called "RbG Black Rebels" tweeted last month. "Real $, no joke, no crime we just wanna get his photo and ask him a few questions."
But as the old saying goes, two wrongs don't make a right. And by Johnson printing the addresses of those reporters, he put their families at risk, including children. As Carr pointed out to Johnson directly in a phone interview, "the reporters and their families were forced to vacate their homes after facing threats of robbery and rape."
Isn't that nice?
Disclosure: I have a wife and 14-month-old daughter at home. Even one threat would result in sleepless nights for my wife and moving the baby's crib into our room. And here are just a few examples of what Bosman and Robertson were sent on Twitter:
"You are a stupid ignorant slut," wrote one Twitter user. "Will you rest well tonight at [Bosman's address]?" Another wrote: "If you're in #NewOrleans this guy needs help. He's giving away #Christmas $$$." From there, Robertson's address was shared.
So did Johnson express any remorse? Of course not. Just another extremist screaming for relevance by tweeting declarations like this:
We are going to use auctions to set the price on the head of each journalist we take down. Think a kickstarted for bounties. #GotNews

— Charles C. Johnson (@ChuckCJohnson) November 30, 2014
Fortunately, the major cable news networks — CNN, Fox, MSNBC, AJAM, etc. — haven't given this zealot a bigger platform. Carr may have done so, but it only illustrated not only how unhinged Johnson is, but how stuck of stupid he can be. From Twitter just today, for example:
I would really want David Carr's mugshot. Get it for me and I'll send you $50. He grew up in Minneapolis & has lived in DC & NJ.

— Charles C. Johnson (@ChuckCJohnson) December 15, 2014
Investigative journo @ChuckCJohnson offers $50 for digging up mugshot that was, um, on cover of an NYT bestseller. https://t.co/kITWx1B8w2

— david carr (@carr2n) December 15, 2014
Printing Darren Wilson's street address–even if that isn't where he currently resides–was wrong. So was revealing the home addresses of those two reporters for the Times. In the end, nobody wins. And even if nothing physical occurs, the fear created for all families involved is hefty price.
No one deserves that.
So kudos to David Carr — a fearless writer — for going head-to-head with Chuck Johnson. Now it's time for Plan B from this day forward: Ignoring him back into total obscurity where he belongs.
— —
>> Follow Joe Concha on Twitter @JoeConchaTV
Have a tip we should know? tips@mediaite.com