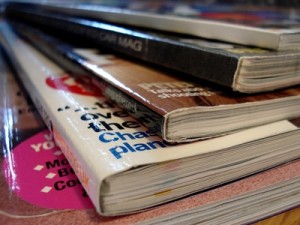 Some of the biggest rivals in magazine publishing are close to a deal that would combine their forces in an effort to resuscitate a dying print industry. Titans of the media world — including Condé Nast, Heart and Time Inc. — are working to form an alliance that would recreate magazines for a digital age, in a plan that includes new mobile iterations sold in an iTunes-like store, as well as print magazines, according a report in The Observer. It's like a publisher's version of Voltron.
That means most of the country's largest, most influential magazines — People, Time, Vanity Fair, The New Yorker — all in one place, so desperate to survive this Great Print Depression that one group no longer believes they can provide the fix that will put them ahead of their peers. The only way we'll get out of this, they seem to be saying, is if we all pour every resource into the reinvention of a medium. Together.
Leaked Time Inc. memos hinted at such a supergroup back in September, revealing the consideration of an alliance to compete with devices like Amazon's Kindle. "Handwritten notes indicate Time Inc. executives have discussed the new venture with other magazine publishers, including Conde Nast, Meredith, and Hearst," reported one source.
Now, the deal is "imminent." In his piece, Observer media maven John Koblin reveals Time Inc.'s John Squires as the interim chief of the project, charged with "generating interest" and insisting publishers "pull together." The anonymous sources Koblin uses to bolster his case seem optimistic, but cautious and vague:
"The really, really hard part is that you've got so many different kinds of devices running on different operating systems. And how do you handle that? The consortium provides one point of contact for the consumer. When you come to the main store, you can get the content any way you want."
And though Squires refused to comment for the piece, Koblin added relevant quotes past interviews with the Time Inc. digital futurist:
"With magazines, the form has to change," [Squires] continued. "All I'm saying is that there are ways to design magazines differently for that kind of experience that'll be attractive and will feel different to a consumer."
It smells too big to fail, but is the innovation there? If the names being tossed around are a proper indication, money won't be an issue, but as a consumer, you're left waiting, hoping the ideas will follow.
Have a tip we should know? tips@mediaite.com