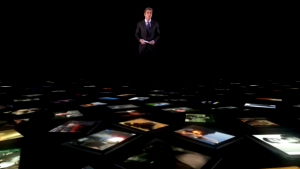 Perhaps you cool kids have noticed that ABC's World News anchor Diane Sawyer now keeps her iPad on the anchor desk during the evening news. And maybe you saw her using her iPad during that news bonanza interview she did with Janet Napolitano ("24/7, 364") and Director of National Intelligence James Clapper (Um, London, you say?)

Well, the iPad obsession at ABC News can now be confirmed. Last night on World News, David Muir intro'd a year in review story in perfect Year of the iPad style: standing amid an endless sea of video-playing iPads, each one displaying one of the "stories that shaped 2010." A very nifty effect, to be sure, even if those of us who are also Apple fanboys and girls may have worried about the devices becoming in any way damaged, scratched or smudged in the shooting of the standup.
Thankfully, an ABC spokesman says no iPads were harmed in the production of the Stories That Shaped 2010 segment, and that the envy-inducing collection of iPads were loaned to ABC by Apple, which presumably took them back, profoundly disappointing ABC News staffers who may have lurked outside the studio in the hopes of a "gently used" iPad giveaway.
The sea-of-iPads concept, by the way, came from ABC News producers working on the year-end segment who thought it would be effective, visual, and–of course–cool. It also, they thought, would cleverly use the gizmo of the year in a funky way. ABC brought the idea to Apple, who clearly agreed. Take that, Kindle!
Watch the effect here, from ABC News:
Have a tip we should know? tips@mediaite.com