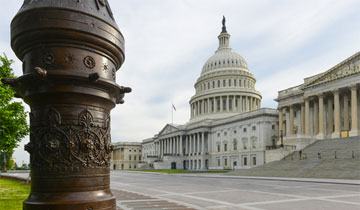 Normally, we don't really delve into the byzantine matters of Congressional hirings and firings, but this is so ridiculous that we absolutely must: according to a USA Today investigation, Congress has cut about 20% of its committee staffers in order to save taxpayer dollars, thanks to a mandate from House Speaker John Boehner (R-OH). However, during the layoffs, they quietly increased the number of staffers with communications or press-related jobs.
According to Congressional records, when the Democrats controlled the House of Representatives in 2010, the major committees reported 1,570 staff members, 74 of whom worked in a press or communications-related capacity. Two years after Republicans won the House, the staff's been cut by 293 staffers — but the number of flacks has increased to 85. That's a 15% increase in flacks, and a 20% cut in actual staffers responsible for things such as, say, investigating issues that are critical to making America run.
Part of this shift may be due to the shifting nature of the media — after all, no one thought that memes would be so important 10 years ago. (There has to be a staffer responsible for Redditing all day, we're sure.) But look at the trend over time, and the emphasis becomes clearer: back in 1997, when the House Oversight Committee was trying to impeach Bill Clinton, the 121-person staff had only 2 press or communications-related people. Today they have 10 flacks out of 108 staffers.
According to a spokesman for Minority Leader Nancy Pelosi (D-CA), "it isn't surprising that their Republican Committee chairmen are hiring more communications staff to spin their record of obstruction, dysfunction and distraction."
Boehner's staff, however, thinks that more flacks are a good idea. "We promised responsible oversight of the Obama administration, and effective oversight requires communicating with the American people," a spokesman said.
In short, both of these men are effective spokesmen, and that's why they were hired.
[h/t USA Today]
[Image via Shutterstock]
—
>> Follow Tina Nguyen (@Tina_Nguyen) on Twitter
Have a tip we should know? tips@mediaite.com