Conservative Radio Host: 'I Feel Dumber Every Time I Listen to Sean Hannity.'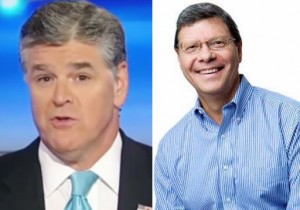 Charlie Sykes has become the face of #NeverTrump conservative media, outraged and abashed by the "alternate reality bubble" in right-wing media he helped create and where Donald Trump and his fanbase currently reside.
"There's got to be some serious introspection, because of the things that we either didn't see, or that we ignored, or that we enabled," he said.
In a profile of Sykes published in Politico Sunday, writer Erick Trickney discusses the widening rift between Sykes and his listeners, and between Sykes and his party, caused by his vehement opposition to the current GOP nominee.
Sykes, a Wisconsin AM radio host, rose to national prominence in March when he chastised Trump in an on-air interview for continuing his childish feud with then-rival Ted Cruz. "Remember, we're not on a playground," Sykes chided, "we're running for President of the United States."
In an excerpt from another interview with Business Insider's Oliver Darcy that went viral last week, Sykes rued his role in stoking the anti-establishment fervor that enabled Trump's rise to power. "At a certain point you wake up and you realize you have destroyed the credibility of any credible outlet out there," Sykes told Darcy. "And I am feeling, to a certain extent, that we are reaping the whirlwind at that. And I have to look in the mirror and ask myself, 'To what extent did I contribute?'"
"If I lose listeners, that's a price I've just got to pay," he told Trickney. "I feel dumber every time I listen to Sean Hannity. I don't want to be that guy."
—
Sam Reisman (@thericeman) is a staff editor at Mediaite.
Have a tip we should know? tips@mediaite.com