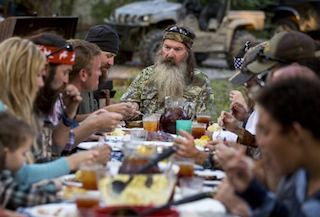 While Walmart is doubling down on its relationship with Duck Dynasty following Phil Robertson's controversial comments about homosexual sex and the Jim Crow South, another popular chain has decided to remove certain items related to the show from its stores. Cracker Barrel made the announcement on its Facebook page Friday:


The suggestion that items related to Phil Robertson "might offend some of our guests" was met by some outrage by the company's conservative fan base. "Worried about offending gays? What about offending Christians???????????" one popular comment reads. Another person wrote, "After you are done removing the selected products, go ahead and remove a bunch of tables and chairs……you won't be needing them any more."
The decision by the company comes with some level of irony given the fact that it was held up as a symbol of the Republican Party during the 2012 presidential election. The Cook Political Report's David Wasserman described the presidential election as a contest between Whole Foods and Crack Barrel shoppers:
In 2012, the campaign might be a contest between these alternate universes of culture and cuisine: Whole Foods Markets and Cracker Barrel Old Country Stores.

In 2008, candidate Barack Obama carried 81 percent of counties with a Whole Foods and just 36 percent of counties with a Cracker Barrel —a record 45-point gap. In 2000, Vice President Al Gore won 58 percent of counties now containing a Whole Foods and 26 percent of those now boasting a Cracker Barrel, a 32-point difference. And in 1992, Gov. Bill Clinton won 60 percent of Whole Foods counties and 40 percent of Cracker Barrel counties — a mere 20-point margin.
Wasserman's prediction was borne out by the 2012 election results. While Obama's percentage dropped slightly to 77% in Whole Foods counties, his support in Cracker Barrel counties dropped even further, with less than a third of voters in those areas supporting the president.
Just as A&E risked upsetting Duck Dynasty's loyal viewers when the network decided to suspend Robertson, is Cracker Barrel turning off its conservative customer base by deciding to operate "within the ideals of fairness, mutual respect and equal treatment of all people?"
[h/t TheBlaze]
[photo via A&E]
— —
>> Follow Matt Wilstein (@TheMattWilstein) on Twitter
Have a tip we should know? tips@mediaite.com