Christopher: Conservatives Launch Derpiest Obama-Hitler Linkage Ever: 'White House Youth'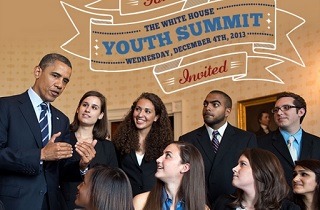 Last week, the White House announced its White House Youth Summit Social, a chance for "young people from around the country" to "discuss the Affordable Care Act and other issues with senior White House officials." To normal people, this is a nice opportunity for the youth of America to attend a White House Summit, but to the Hitler-happy right-wing blogosphere, it's a sinister summit meeting of the "White House Youth," who apparently also had a conference under President Richard Nixon.
If you care to take the sketchy, popup-laden journey through the right-wing blogosphere, the White House Youth stories are a neat microcosm of conservative Obama derangement pathology. PJ Media plays it serious:
Yes. We have a White House Youth now.

…It's interesting how this administration uses our nation's house for its political whims. It shut down White House tours to make hay out of the sequester budget cuts. Now it's hosting this "summit" not to talk about our nation's history or anything that all Americans could get behind. It's hosting this summit to transmit its talking points about Obamacare. It's about the cult, not the country, with this administration.
Yes, what could be worse for the country than millions of people gaining access to health insurance?
But most of them gave it the "hilarious" Twitchy treatment, seizing on the #WHYouth hashtag as an excuse to make Hitler jokes. The form is best exemplified, and explained, by Townhall's Katie Pavlich:
I know we're not supposed to make references to Hitler, but the latest move by the White House makes it really hard not to.
This is the fundamental conservative misunderstanding about everything from racism to misogyny to any other concern that they can dismiss as "political correctness": you're not supposed to do, or not do, anything, but what you choose to do, or not do, says something about you. Pouncing on the merest excuse to make Hitler jokes demonstrates that you're just dying to make Hitler jokes. That's fine, it's a free country, but just own it, don't try to blame the White House blog for it.
Not satisfied with the fig leaf of the #WHYouth hashtag, Pavlich makes the same false pivot the other righty blogs make:
Late yesterday the White House launched a new initiative called "White House Youth."
Actually, no. Despite the handy hashtag, here's what the White House announced yesterday:
Tune in at 8pm ET for a health care G+ Hangout with @KalPenn, @HealthCareTara & @YI_Care. Ask Q's w/ #WHYouthSummit: http://go.wh.gov/xFUXvm
Contrary to what these blogs say, there is no such thing as the "White House Youth" (Lucky for Debbie Gibson there were no right-wing blogs around in 1989), but if their point is that the #WHYouth hashtag is a handy excuse to make Nazi jokes they were dying to make anyway, that point is well-taken. The problem with Nazi comparisons isn't that they violate some "rule," it's that they trivialize one of the worst horrors in human history.
Have a tip we should know? [email protected]