'Consistently And Unapologetically Wrong': Fact-Checkers, Editors Mourn Bachmann's Exit From Congress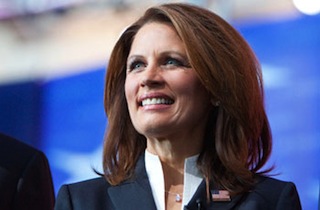 As Congress bids farewell to Michele Bachmann — who announced this morning, complete with a shot at the "liberal" media, that she won't be seeking re-election — some in the media are feeling a bit blue. Namely: fact-checkers. Alas, Bachmann was a unique brand of inaccurate. "Consistently and unapologetically" so.
Washington Post fact-checker Glenn Kessler even called for a "national day mourning," offering a farewell post that noted, "Bachmann is not just fast and loose with the facts; she is consistently and unapologetically so. No other lawmaker earned as high a percentage of Four-Pinocchio ratings as Bachmann — and she earned an average of more than Three Pinocchios as a presidential candidate."
Kessler went on to chronicle some her greatest hits, so to speak. Those included her claiming that she didn't "say anything inaccurate in the debates," that she voted against the sequester because of "cuts to the poor," and that President Obama has "a $1.4 billion-a-year presidency of perks and excess."
Over at Poynter, PolitiFact editor Bill Adair and Washington Post copyeditor Bill Walsh also chimed in. Adair reminisced about how the congresswoman provided them with mounds of material.
"We will miss Michele Bachmann. She kept the Truth-O-Meter busy — and occasionally made it burst into flames," Adair told Poynter. "She cited our work once during a debate, saying that we had rated all of her claims from a previous debate to be True. But alas, she was wrong and earned another Pants on Fire."
"We'll always have 'Ghandi,'" Walsh offered.
Bachmann doesn't appear to want to disappear entirely, based on her willingness to consider potential political opportunities, so fact-checkers may not have to go cold turkey. But it shan't be the same. Parting, as it goes: such sweet sorrow.
Have a tip we should know? tips@mediaite.com