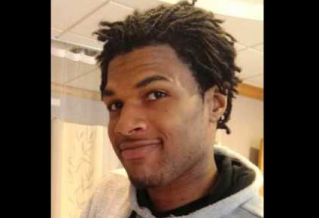 A special grand jury chose not to indict two officers involved in a shooting outside a Dayton-area Walmart that resulted in the death of 22-year-old John Crawford III.
The jury came to their decision Wednesday morning following two days of deliberations. According to reports, a supermajority of jurors – seven out of nine – needed to vote yes for one of the three charges including murder, reckless homicide, or negligent homicide, in order for the officers to be indicted. This did not happen.
Crawford was shot and killed earlier this month inside a Beavercreek Walmart store after he was seen carrying a black rifle that was actually a BB gun he had only taken from a store shelf. Witnesses originally said Crawford had been pointing the gun at others, but later walked back his statements.
The surveillance footage from inside the store was shown for the first time this morning at the news conference. The video shows Crawford walking around the store carrying the BB rifle in one hand and his phone in the other, and does not show Crawford pointing the gun at others. Crawford was then shot twice by the officers.
At the news conference, Mark Piepmeier, the special prosecutor for the case, showed the media the similarities between an actual assault rifle and the BB gun Crawford was holding, noting how the cosmetics are almost identical.
"He didn't commit a crime, he did nothing wrong," Piepmeier said. "At the same time, the police officers have to be judged on everything they had."
A spokesperson for the Dayton NAACP told WLWT that the shooting was "not justified."
Given that Crawford was black and the officers are white, Crawford's family wants a federal investigation into whether race was a factor in the shooting.
A statement released by the city of Beavercreek countered that assertion, saying Crawford "failed to comply" with the officers' orders and the officers were acting to "protect the public." The officers' attorney said the they "acted well within their training."
Ohio Gov. John Kasich also released a statement on the case:
After talking with the Attorney General and watching the video myself, I agree with his decision that a review by the U.S. Department of Justice is appropriate.  This is a tragedy for the Crawford family and I share the concern of many in the community that this matter must be handled with the utmost seriousness and respect.  I've consulted with local leaders, including leaders in the African American community, and I applaud the example they have set of calm, restraint and patience.
Watch the surveillance video shown at the press conference below, via WHIO:
[h/t WLWT]
— —
>>Follow Andrew Desiderio (@forza_desiderio) on Twitter
[Note: Mediaite intern Andrew Desiderio is a student at The George Washington University.]
Have a tip we should know? [email protected]