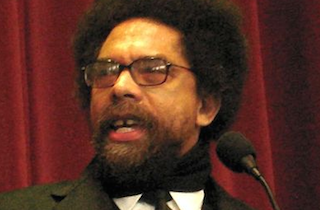 After initially supporting President Barack Obama in 2008, Dr. Cornel West has become an increasingly loud critic over the last few years. In a new interview with Salon's Thomas Frank, West took aim at the Obama administration's reaction to the shooting of Michael Brown and subsequent protests in Ferguson, Missouri.
Read some highlights from West's comments below.
On his change of heart about Obama:
"The thing is he posed as a progressive and turned out to be counterfeit. We ended up with a Wall Street presidency, a drone presidency, a national security presidency. The torturers go free. The Wall Street executives go free. The war crimes in the Middle East, especially now in Gaza, the war criminals go free…

We ended up with a brown-faced Clinton. Another opportunist. Another neoliberal opportunist. It's like, 'Oh, no, don't tell me that!' I tell you this, because I got hit hard years ago, but everywhere I go now, it's 'Brother West, I see what you were saying. Brother West, you were right. Your language was harsh and it was difficult to take, but you turned out to be absolutely right.' And, of course with Ferguson, you get it reconfirmed even among the people within his own circle now, you see. It's a sad thing. It's like you're looking for John Coltrane and you get Kenny G in brown skin."
On Obama's handling of police militarization and Ferguson:
"The Obama administration has been silent. Completely silent. All of a sudden now, you get this uprising and what is the response? Well, as we know, you send out a statement on the death of brother Robin Williams before you sent out a statement on brother Michael Brown. The family asked for an autopsy at the Federal level, they hold back, so they [the family] have to go and get their own autopsy, and then the federal government finally responds. [Obama] sends Eric, Eric's on the way out. Eric Holder's going to be gone by December."
On Al Sharpton:
"That's true. It's a great moment, but let me tell you this though. Because what happens is you got Eric Holder going in trying to create the calm. But you also got Al Sharpton. And when you say the name Al Sharpton, the word integrity does not come to mind. So you got low-quality black leadership. Al Sharpton is who? He's a cheerleader for Obama…

MSNBC, state press, it's all Obama propaganda, and Sharpton is the worst. Sharpton said explicitly, I will never say a critical word about the president under any condition. That's why he can't stand what I'm saying. He can't stand what I do because, for him, it's an act of racial traitorship to be critical of the president. There's no prophetic integrity in his leadership…

Has there been justice for Trayvon Martin? Has the Department of Justice done anything for the Trayvon Martin case? None whatsoever. The same is true now with Ferguson. They call Sharpton down. He poses, he postures like he's so radical. But he is a cheerleader for the Obama administration which means, he's going to do what he can to filter that rage in neoliberal forms, rather than for truth and justice."
On Hillary Clinton:
"Hillary Clinton is an extension of Obama's Wall Street presidency, drone presidency, national surveillance, national security presidency. She'd be more hawkish than he is, and yet she's got that strange smile that somehow titillates liberals and neo-liberals and scares Republicans. But at that point it's even too hard to contemplate."
Read the full interview at Salon.com.
[Photo via Wikimedia Commons]
— —
>> Follow Matt Wilstein (@TheMattWilstein) on Twitter
Have a tip we should know? tips@mediaite.com