Dave Chappelle Weighs In on 'Emotional Context' of Rachel Dolezal's Actions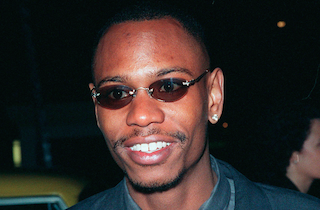 Rachel Dolezal, the NAACP leader who pretended to be black for years, has come under a lot of scrutiny and national attention. And, let's face it, whenever something like this happens, you have a shortlist of people in your head you want to hear weigh in on this.
And Dave Chappelle is probably on that list, thanks to classic Chappelle's Show sketches like Racial Draft and Clayton Bigsby, the black white supremacist.
In fact, The Washington Post notes both of those sketches in particular in its write-up of their interview with the comedian, who revealed he's not really too eager to joke a lot about Dolezal.
He riffed a bit on her at George Washington University, but told WaPo it's a little more complicated than people might think:
"The thing that the media's gotta be real careful about, that they're kind of overlooking, is the emotional context of what she means. There's something that's very nuanced where she's highlighting the difference between personal feeling and what's construct as far as racism is concerned. I don't know what her agenda is, but there's an emotional context for black people when they see her and white people when they see her. There's a lot of feelings that are going to come out behind what's happening with this lady."
He also said, "I'm probably not going to do any jokes about her or any references to her for awhile 'cause that's going to be a lot of comedians doing a lot."
[image via Featureflash/Shutterstock]
— —
Follow Josh Feldman on Twitter: @feldmaniac
Have a tip we should know? tips@mediaite.com
Josh Feldman - Senior Editor