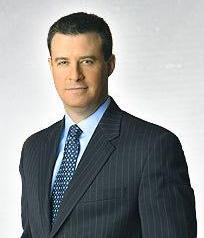 MSNBC's David Shuster may still be off the air for NBC, but that doesn't mean he's just sitting around D.C. with nothing to do.
He's playing softball, and not only playing softball, he's continuing his long history of successful and productive play in the co-ed rec media league. He's also emailing the Washington Examiner for getting so many things wrong in their report about his softball playing.
The Examiner reported last night that Shuster was still playing for his local NBC station team in the media softball league. Also in the report: he wears his own uniform, he 'flaunted' his team's championship trophy last year, he told teammates he was on "paid vacation" and he told friends he hadn't actually shot a CNN pilot, just interviewed.
Well Shuster responded with an epic email so detailed it really needs to be read in full.
First of all, he wanted to clear up the biggest misconception. He doesn't wear his own jersey, people. "1) I don't wear a 'uniform.' I wear shorts and the WRC/NBC t-shirt just like everybody else. There is one player on our team who wears softball pants. But he plays left field. I play center. And I've never EVER worn softball pants," he wrote.
With that out of the way, it was on to his lengthy history, and full teamography that the Examiner failed to lay out properly. For getting this wrong, Shuster has demanded the Examiner "publicly identify" their source. The Examiner has decided to decline doing that, since that's insane.
Now onto the matter of suspension and pilot-filming:
(3) You claim that a week after I was suspended, I spoke to a fellow softball player or players about being on "paid vacation." I've never said any such thing to anybody in the media softball league. And the only conversations I've had about my status are with my agent, my immediate family, and my closest friends. None of them play or interact with anybody in the media softball league.
Ok, not exactly a direct denial there. But really, this all leads up to the most important part of the email. The part that must be corrected "immediately," according to Shuster. Again, go read the whole email:
It is accurate that I continue to play on the NBC/WRC "Peacock" softball team. It is also accurate that we won the championship last year (and the year before) and that like many of of my teammates, I hoisted the trophy after we won. It is also accurate that I batted 5th last weekend, though that was only in the 2nd game. In the first game, I batted my usual 4th spot.

Next time, if you want to write about the media softball league and can't reach me by deadline, please call somebody/anybody on our team. It wouldn't have taken more than a few minutes for you to realize that your reporting sources were bull sh*t.
First rule of media softball league, get your damn facts straight about media softball league.
—–
» Follow Steve Krakauer on Twitter
Have a tip we should know? tips@mediaite.com