Released FBI Documents Detail Walter Cronkite's Aid of Vietnam War Protesters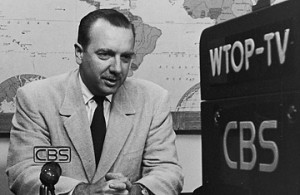 Yahoo News has just reported on some previously-unreleased FBI documents which contain fairly shocking allegations against the late Walter Cronkite, host of the CBS Evening News for 19 years and one of the most respected journalists of all time. The documents include the claims of a confidential informant who once told the FBI that Cronkite aided a group of student Vietnam War protesters by giving them advice and even going as far as to promise them CBS resources for their cause.
While it is well known that Cronkite was against the war (in fact, his famous editorial against it in February of 1968 is often credited with turning the tide of public opinion against the war), the claims in the documents allege a heretofore unheard of connection between a political group and a news organization of the time. The informant told the FBI that he believed Cronkite had held a 45 minute long phone conversation with a leader of a protest group (whose name is redacted in the file) in which the anchor told the protester how to raise the group's profile by getting Maine senator Edmund Muskie to speak at their demonstrations. The most stinging allegation is that Cronkite promised to rent an official CBS helicopter to fly Muskie to the event.
From the FBI documents:
"[Redacted] told group he had been to CBS Channel Six in Orlando prior to meeting to speak to newsmen about Vietnam moratorium activities. [Redacted] related that while at TV station, Walter Cronkite, nationally known radio and television commentator, spoke to him by telephone for approximately forty five minutes and that Cronkite reportedly told [redacted] that CBS would have thirty six hours of coverage on Vietnam moratorium with "open mike" to give demonstrators a chance to be heard. Cronkite noted, according to [redacted], that Senator Edmund Muskie would be in Orlando, Fla., November 13 instant for Democratic fund raising dinner. According to [redacted], Cronkite suggested that [redacted] attempt to Muskie to come [sic] to Cape Kennedy to speak at Kelly Park rally to be held November thirteen instant. Cronkite allegedly told [redacted] that CBS would rent helicopter to take Muskie to and from site of rally at Kelly Park."
Yahoo News spoke to Chip Cronkite, the son of the famous newsman, who said the allegations were highly unlikely, stating "It doesn't have the ring of a reliable story to me. Particularly at a time when FBI informants often told the FBI what they wanted to hear. I think it would be outside of what we know about Walter Cronkite and CBS News' practices."
Cronkite was an anchorman at a time when news sources tried to stay far away from opinion journalism. The promise of network resources to help out a political protest group would be considered highly unethical. For example, look to the uproar over Sean Hannity's scheduled appearance at a recent Tea Party event.
We will probably never know if the allegations are true or not.
Have a tip we should know? tips@mediaite.com