If you thought Facebook's new privacy (or "privacy") policy was complicated, think again: It's really, really, really, really complicated. In a mind-hurting feat of service journalism, the New York Times tried to make sense of it in visual form, organizing Facebook's "more than 50 privacy buttons, which then require choosing among a total of more than 170 options" into a super-handy chart. Like so: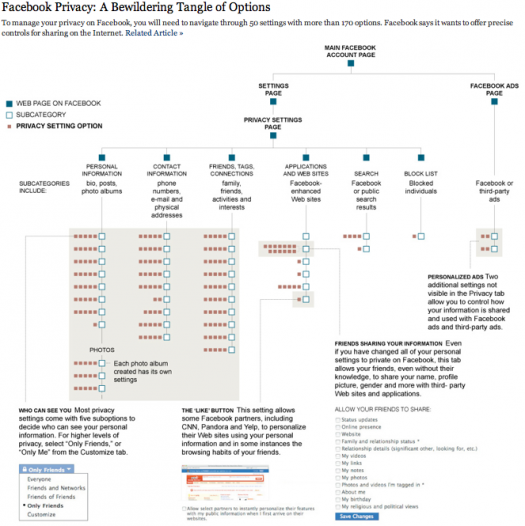 See? Easy! The NYT also took Nick Bilton's lede from the related article:
Pop quiz: Which is longer, the United States Constitution or Facebook's Privacy Policy?
…and put it into handy comparative form, demonstrating how not how Facebook's 5,830 word Privacy Policy has swelled over the years, but what it's bigger than (policies of Flickr, Twitter, the aforementioned 4,543-word United States Constitution):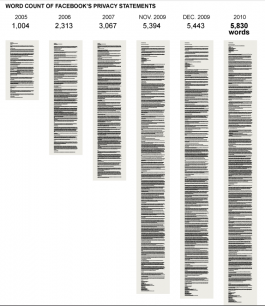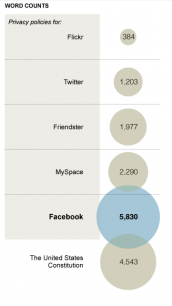 Wired, meanwhile, has broken down Facebook's new evilness, demonstrating all the little ways in which your innocently-posted personal information is being exploited by Facebook for fun and profit (the fun being in just totally violating all your privacy rights). Like so:
Now, say you you write a public update, saying, "My boss had a crazy great idea for a new product!" Now, you might not know it, but there is a Facebook page for "My Crazy Boss" and because your post had all the right words, your post now shows up on that page. Include the words "FBI" or "CIA," and you show up on the FBI or CIA page.
I just posted that paragraph to my Facebook page so I, too, could be on the "My Crazy Boss" page. (The FBI and CIA know aaaaaall about me already.) Jeff Jarvis, though, seems to nail the disconnect between Facebook's "What? You posted it on Facebook!" attitude and the public outcry: "They confused sharing with publishing." And also, a great user experience with something hellishly akin to descending the nine levels of hell. Thanks anyway, NYT, for trying to help – go ahead, Facebook, tell the world that my favorite movie is The Sound of Music, I don't care. How do you hold a moonbeam in your hand? I don't know, but it sure sounds easier than changing your Facebook privacy settings.
Facebook Privacy: A Bewildering Tangle of Options [NYT]
Price of Facebook Privacy? Start Clicking [NYT]
Facebook's Gone Rogue; It's Time for an Open Alternative [Wired]
Here's The Privacy Line That Facebook Just Crossed… [Business Insider]
Have a tip we should know? tips@mediaite.com